Stroman's and Settle's path to pros entwined

Few NFL players are more closely entwined than Greg Stroman and Tim Settle.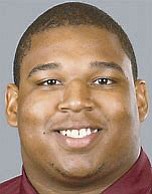 Improbable as it may seem, they've been together now on three consecutive levels of gridiron action.
Thus, their combined nickname: "3-for-3."
Stroman and Settle first were teammates at Stonewall Jackson High School in Prince William County. From Northern Virginia, they attended Virginia Tech in Blacksburg together, where they became integral cogs in a strong Hokies defense.
Now, defying all odds, they're in their first year with the same pro football franchise in the District of Columbia.
"It was exciting hearing the news. Now we've just got to play," said Stroman. "I think we just kind of willed this into happening."
Throughout the years, their jersey numbers also have been close together. At Tech, Stroman wore No. 4; Settle, No. 5. It doesn't get much closer than that. 
The longtime friends also are sharing a hotel room as the Washington NFL team holds preseason drills at the Bon Secours Training Center in Richmond.
They're bringing their hard hat and lunch pail to practice each day. Both have a solid chance of making the team, but there are no assurances.
"He'll let me know I've got to work, and I'll let him know he's got to work," said Settle. "We don't beat around the bush."
Nose guard Settle was drafted in the fifth round; Stroman, a defensive back/kick returner, was drafted in round seven.
Right after Stroman was drafted, he tagged Settle on Twitter with "3-for-3."
The duo are off to a promising start. Both earned recognition in Washington's 26-17 exhibition loss at New England on Aug. 8. Stroman had a 20-yard punt return and was effective defending pass plays. Settle had five tackles plus a forced fumble.
An All-ACC defensive back for Virginia Tech, Stroman hopes to make Washington's eventual 53-man roster as a back-up defender and full-time kick returner. At Tech, he returned 127 career punts for more than nine yards average, with four touchdowns. Defensively he made four interceptions and broke up 11 passes as a senior.
Jamison Crowder, also a front-line wide receiver, was Washington's primary punt returner a year ago with a 6.3 yard average on 27 tries.
Stroman's arrival as a defensive back coincides with the departure of another deep defender, former Virginia Tech Hokie DeAngelo Hall. Hall played with Washington from 2008 to 2017 before announcing his retirement.
The 6-foot-3, 338-pound Settle has seen his status rise as a nose guard candidate since the injury to No. 1 draft pick Da'Ron Payne out of Alabama.
Payne suffered an ankle injury at the training camp and did not dress for the New England game.
Stroman, a former high school quarterback, impressed last spring at the NFL Combine in Indianapolis with a time of 4.48 seconds in the 40-yard dash.
Settle came into his own last fall for Virginia Tech, earning second-team All-ACC honors with 36 tackles, including 12.5 for losses. He had four sacks.
High school teammates moving on to the same Division I college are rare. And now they're both wearing burgundy and gold pro jerseys, too. Their unfolding "3-for-3" saga may be a story waiting for Hollywood.