1, 2 … Jermoin'e Royster rising in the ring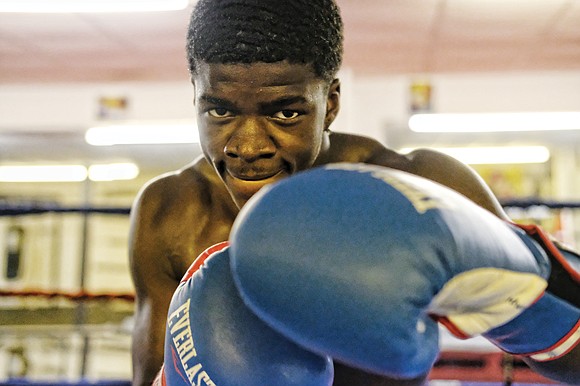 If anyone was ever born to box, it's 17-year-old Jermoin'e Royster, a George Wythe High School senior and member of Cobra Boxing Gym at the Southside Community Center.
His father, Jerry Royster, insists Jermoin'e "was in the gym, in his carrier, the day after he was born."
Jermoin'e's eight older brothers and four older sisters all boxed to some extent under the guidance of their doting father, who also serves as their coach.
"Every single one of them boxed," Mr. Royster said. "I taught my daughters how to box because you know how boys can be."
It's now Jermoin'e's turn to carry on a family pugilism tradition.
His amateur ring credentials are so bright that welder's glasses are needed to read them: Three National USA Boxing titles.
Add to that eight Silver Gloves titles, eight Junior Olympics crowns and so many other awards that they are hard to keep track of.
Jermoin'e's overall record is 65-13, with many of those defeats avenged in rematches. He has left behind a string of bloody lips and swollen eyes all up and down the East Coast.
Richmond ring history
Any history of Richmond boxing cries for a mention of John Jarvis.
The super middleweight posted a 33-5-1 record, with 26 knockouts, between 1979 and 1997. In 1990, Jarvis won the International Boxing Federation Inter-Continental title with a victory over South African Thulani Malinga at the Richmond Coliseum.
Jarvis trained under Coach Ray Brown at Second Street Gym in Richmond. From the small-world department, Jarvis' stable mates, as they're called in boxing, included Jerry Royster, now the coach and father of George Wythe High School senior Jermoin'e Royster.
Jermoin'e's assets start with what he calls "the best jab in the country." He also has fancy footwork and showmanship that he attributes to watching videos of his idol, the late Muhammad Ali.
The famous Ali philosophy — "float like a butterfly, sting like a bee" — is the same strategy Jermoin'e subscribes to.
Another of his huge advantages is being virtually ambidextrous. He boxes with both right- and left-handed stances with near equal effectiveness.
Then there's his physique. He carries 141 pounds on a 5-foot-9 frame, with nary a smidgen of body fat. He also has long arms. His reach is that of a 6-footer.    
The South Sider dishes out punishment while rarely receiving it, thus his nickname, "Pretty Boi."
Asked if the tag was because of his looks, he responded, looking embarrassed, "No, it's because of the way I fight. The idea of boxing is to hit and not be hit." 
Jermoin'e claims to be "more stylist than slugger."
Jermoin'e's skills stem from an accumulation of mentors that also shaped his father. Mr. Royster, an Armstrong High School alumnus, honed his boxing skills under the tutelage of Richmond's ring royalty. He was trained by Ray Brown and Tom Brown, both now deceased, and Mechanicsville resident Billy Sahnow, who has suffered a stroke.
Mr. Royster and Jermoin'e visit Mr. Sahnow and his wife, Sandy, frequently, sharing stories, offering assistance and always absorbing the finer points of the "sweet science." It's a loving relationship that has survived decades and one that will never suffer a knockout.
"Billy and Sandy took Jermoin'e out to eat recently," Mr. Royster said. "You could see people looking at 'em funny — two older white people with a young black boy."
Jermoin'e plans include turning pro next July on his 18th birthday. That could be delayed, however, if he opts for the 2020 Olympic Trials.
For someone so young, he's an experienced veteran when it comes to throwing left hooks and right crosses.
It's common to hear of babies kicking in the womb. Around Cobra Gym at least, it's rumored Jermoin'e chose punching to get the attention of his mom, Tondra Kelly.