Chesterfield names new superintendent
8/30/2018, 6 a.m.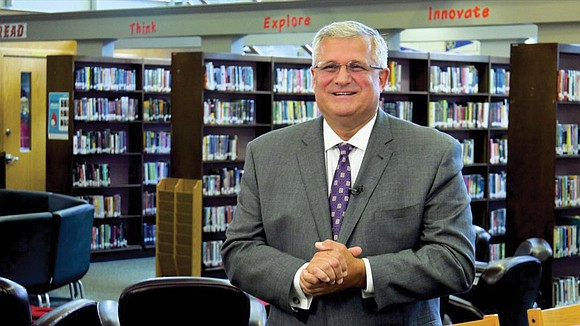 Chesterfield County has a new schools superintendent.
Dr. Mervin B. Daugherty, superintendent of Red Clay Consolidated School District in Wilmington, Del., will lead Chesterfield County Public Schools, beginning Nov. 1.
His appointment was announced Aug. 23 following a three-month search by the county School Board.
He is the third new superintendent named in Metro Richmond in the last six months. In February, Jason Kamras, a Washington schools administrator, took over as superintendent of Richmond Public Schools, while Dr. Amy E. Cashwell, a former administrator with Virginia Beach Public Schools, began July 1 as the new superintendent with Henrico County Public Schools.
Dr. Daugherty succeeds Dr. James Lane, who was appointed early this year by Gov. Ralph S. Northam as state superintendent of public instruction.
"Red Clay and Chesterfield County school divisions have a lot of similarities, and I look forward to transferring my knowledge and skills to serve the students, staff members and families of Chesterfield County Public Schools," Dr. Daugherty stated in a news release issued by the school system. "I am honored to have been selected to lead one of the premier school divisions in Virginia."
School Board Chair John M. Erbach was equally enthusiastic about the board's unanimous choice for the job. Dr. Daugherty was named Delaware's Superintendent of the Year in 2015-16.
"During the last two years, we have made a number of enhancements to the teaching and learning process, creating a more engaging and authentic learning environment," Mr. Erbach stated. "We already are viewed as a leader in public education within Virginia and across our great country. We are on the cusp of being a world-class school division. We are excited about the skills that Dr. Daugherty brings to help us reach that next level of excellence."
The Chesterfield County Public Schools, which serves about 61,000 students, is nearly four times larger than Red Clay.
Chesterfield officials said Dr. Daugherty led initiatives in Delaware that are similar to what has been introduced during the last several years in Chesterfield County, including discussions about school safety, equity and serving the whole student.
"Dr. Daugherty recognizes that student support services staff members are critical to the healthy development of our students, supporting them through social or emotional issues," said School Board member Carrie Coyner, Bermuda District. "Our students cannot achieve their best unless they feel secure, comfortable and supported. We believe Dr. Daugherty is the right person to guide our work in this area."
Dr. Daugherty earned his undergraduate degree from Frostburg State College and a master's in administration and supervision from Salisbury University, both in Maryland, and a doctorate in leadership in education in 2007 from Wilmington University in Delaware.
He spent 16 years as a history teacher before moving into administrative roles and central office leadership positions in Maryland and Delaware, including serving as assistant superintendent.
He has served as president of the Delaware School Chiefs Officers Association, a member of the College Board Advisory Council and was selected as a 2013 Catalyst for Change winner for the state of Delaware.
Dr. Daugherty and his wife, Kim, have two children and three grandchildren.