Former President Obama to speak at Sen. McCain's funeral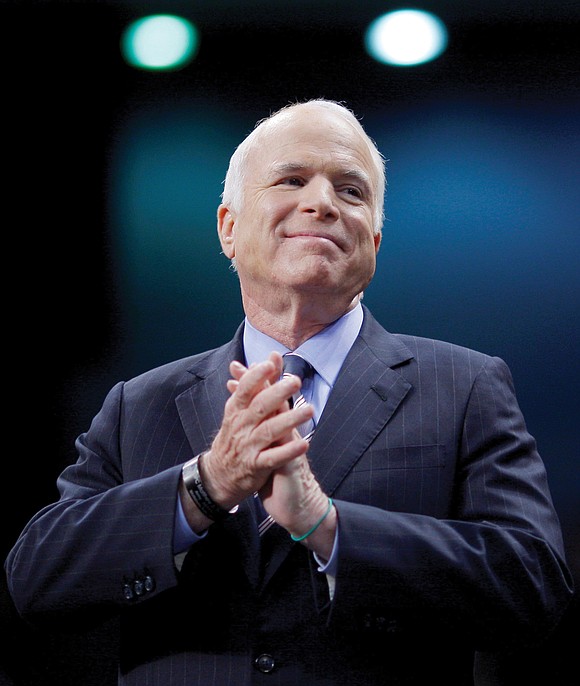 In death, Sen. McCain himself had more to say. In a final letter released Monday, Sen. McCain appeared to repudiate President Trump's politics one last time, saying, "We weaken our greatness when we confuse our patriotism with tribal rivalries that have sown resentment and hatred and violence in all the corners of the globe."
Sen. McCain, a traditionally Republican foreign policy hawk, was admired in both parties for championing civility and compromise during an era of acrid partisanship in U.S. politics. But he also had a famous temper and rarely shied away from a fight.
The son and grandson of U.S. Navy admirals, Sen. McCain was born on Aug. 29, 1936, at an American naval installation in the Panama Canal Zone — U.S. territory at the time — where his father was stationed.
He graduated from the U.S. Naval Academy and flew attack planes off aircraft carriers during the Vietnam War. In October 1967, his A-4 Skyhawk was shot down on a bombing mission over North Vietnam's capital and he suffered two broken arms and a broken leg. A mob dragged him from a lake, broke his shoulder and stabbed him.
Held at the notorious "Hanoi Hilton" prison and other sites, Sen. McCain was beaten and tortured, suffering broken bones and dysentery. He was released on March 14, 1973, but left with permanent infirmities.
He divorced his wife, Carol, after 15 years of marriage in 1980, and weeks later married Cindy Henley, daughter of a wealthy beer distributor in Arizona.
He was elected to the U.S. House of Representatives in 1982 after more than two decades of Navy service.
Arizona next elected him to the U.S. Senate in 1986 to replace Barry Goldwater, the 1964 Republican presidential nominee revered by conservatives.
A dark period for Sen. McCain came as one of the "Keating Five" group of senators accused of improperly intervening with federal regulators to help political contributor and bank executive Charles Keating, whose Lincoln Savings and Loan failed in 1989, costing taxpayers $3.4 billion.
Sen. McCain was cleared of wrongdoing in 1991 but the Senate Ethics Committee rebuked him for poor judgment.
In Congress, Sen. McCain prided himself on his history of working across party lines on immigration, climate change and campaign finance reform. He is credited, among other things, with helping to rebuild U.S. ties to Vietnam.
He supported President Bush's 2003 invasion of Iraq, but also spoke out against the Bush administration's use of waterboarding, a type of simulated drowning widely considered torture, and other extreme interrogation tactics in the aftermath of the Sept. 11, 2001, attacks.
In running for president in 2008, he tried to succeed fellow Republican Bush at a time when the United States was mired in wars in Afghanistan and Iraq, and stuck in a financial crisis.
It was a stark contrast between Sen. McCain, then a 72-year-old veteran of Washington, and the 47-year-old Sen. Obama, who was offering a "Yes, we can" message of change.