Pep rally pumps RPS staff for new school year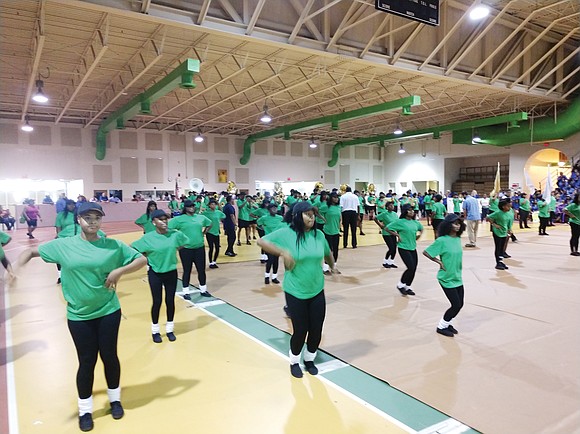 Amid a sea of pom-poms and balloon bouquets and the sounds of air horns and a recording of Aretha Franklin rocking her hit song, "Respect," Richmond's top city and schools officials were the lead cheerleaders at Monday's back-to-school rally for Richmond Public Schools' teachers and support staff.
Mayor Levar M. Stoney reminisced about his public school education, saying, "Thirty years ago, I walked into my first classroom scared to death with all the dreams of my father and family on my shoulders.
"I would not be here today if it were not for great educators," the mayor told the enthusiastic crowd.

"What I remember, as well as most of your students will remember about their time in RPS, is your 'can do' spirit saying, 'You can do anything that you put my mind to.' "
As applause roared in response, Superintendent Jason Kamras bounced onto the stage wearing a newly minted blue Obama Elementary T-shirt, jeans and orange sneakers. His first order of business was a "shout-out" to all teachers, administrative and support staff, bus drivers and safety and security officers for dedicating their time, love and energy to support RPS students.
This was met with thunderous applause from the top of the bleachers to the bottom as teachers and staff waved banners and pom-poms and blasted air horns.
Special recognition was given to Dr. Howard Hopkins for 52 years of service to RPS, which started at Maggie L. Walker High school in 1967 as a physical education teacher.
Dr. Hopkins has had several conversations with Mr. Kamras and said, "The new superintendent has great passion and is already committed to RPS. The things that he is doing, especially with the bathrooms, which is a big issue, is setting the tone for all of our children," he said in commending the RPS Shines! project to fix up the schools before students return next Tuesday, Sept. 4.
Mr. Kamras then expressed appreciation for teachers' individual sacrifices as he motivated them to take that extra step and sustained fervor toward a winning outcome for the school year.
"It is not lost on me that time away from your own families and your own pursuits is what motivates students to do their best and parents to appreciate your involvement with their child," he said. "I want you to know how grateful I am."

He thanked RPS teachers for showing love by being demanding, fighting ignorance and inequality, questioning beliefs and broadening perspectives, explaining a world that is inexplicable for students, not using labels as quick predictors of ability, helping children of diverse backgrounds love and respect their differences and at the same time embrace what is common among them, and for speaking positively for the most challenging students when others casually denigrate them.
His encouraging closing remarks reflected current and long-standing issues confronting RPS.
"Treating our students with respect and dignity means fixing bathrooms so our students don't have to hold it all day because they can't stomach using them.
"Believing in their greatness when, sometimes, they don't believe it themselves means being an extremist in love and justice each and every day for our students."
Carmen Green, Henderson Middle School's registrar, was impressed with the rally and the new superintendent.
"There was a lot of motivation. People are pumped and I like the fact that Mr. Kamras was dressed like we were," Ms. Green said after the rally.
Also attending were School Board Chair Dawn Page, 8th District; and board members James "Scott" Barlow, 2nd District, and Linda Owen, 9th District.
They were surrounded by Chief Academic Officer Tracy Epp, Chief of Staff Michelle Hudacsko and Chief Schools Officer Harry Hughes — all wearing Obama Elementary T-shirts.