Ready to work
New RPS Superintendent Jason Kamras rolls out ambitious 100-day plan just days after being sworn into office
2/9/2018, 7:21 a.m.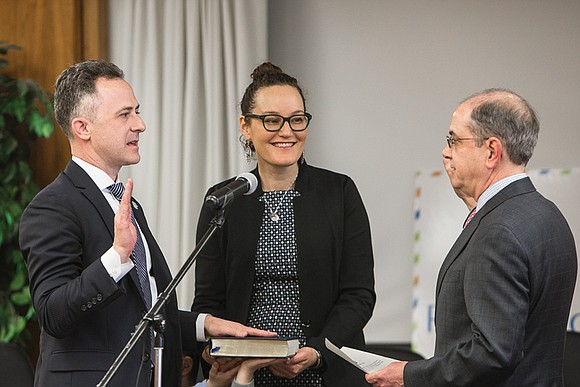 By Ronald E. Carrington
The new Richmond Public Schools chief wasted no time getting to work.
Just four days after being sworn in, Superintendent Jason Kamras on Monday night rolled out his plan to get RPS moving.
At a Richmond School Board meeting crowded with schools staff and interested residents, Mr. Kamras presented an ambitious 100-day plan that will center on what he called three core education values — engagement, equity and excellence.
The 43-year-old Mr. Kamras, who has served as an administrator in the Washington, D.C. public school system, an education adviser to former President Obama and was the 2005 National Teacher of the Year, takes the helm in Richmond as the school system faces major accreditation issues, poor student performance and a city government grappling with how to fund renovation or replacement for dilapidated, crumbling school buildings.
Mr. Kamras said he is committed to launching a strategic planning process for a new five-year vision for the school system, establishing a philanthropic effort to support the new strategic plan and charting a path with the state Department of Education to have all 44 Richmond schools accredited by 2023.
Currently, only 19 of the city's schools are fully accredited.
Additionally, he said he will establish a task force to ensure all schools are fully staffed for the 2018-19 school year. RPS has been operating with dozens of teacher vacancies.
He said his first three months will focus on engaging families and the community by listening to and learning from them.
The plan, which has been posted on the school system's website, details 10 action points for each of the three core values.
According to the plan, he will visit all Richmond Public Schools; hold town hall meetings in each district to meet parents and community members; hold five citywide meetings for members of the faith, civil rights, nonprofit, higher education and business communities; and conduct 12 "Living Room Chats," three each in the city's East End, West End, South Side and North Side.
Last Friday, his first full day in office, Mr. Kamras visited Bellevue Elementary when students arrived and Huguenot High as students were being dismissed.
His schedule called for him to go to Chimborazo, Holton, Swansboro and Broad Rock elementary schools, Martin Luther King Jr. and Binford middle schools and Thomas Jefferson High School by this week's end.
He also plans to launch "RPS Direct", a weekly communication to be sent directly to the public, and hold a Twitter town hall. He also plans to meet with each member of Richmond's Virginia Assembly delegation and have four advisory cabinets, one each for high school students; parents and caregivers; teachers; and principals.

Mr. Kamras also plans to have an outside firm conduct an "equity audit" of all RPS functions, and to launch a campaign to recruit teachers to serve in the city's highest poverty schools. Two task forces will be created to develop recommendations for restorative justice practices in schools and for providing teacher development on trauma informed care.