Superintendent Jason Kamras reviews his first year on job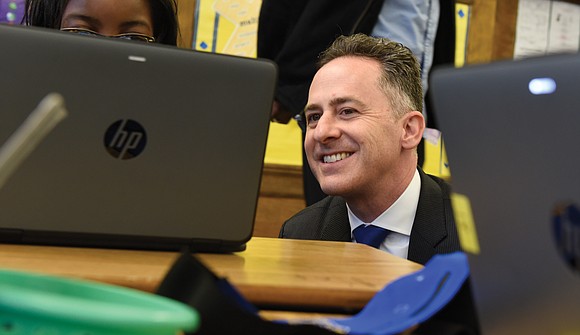 When Jason Kamras placed his hand on his late grandfather's Torah and was sworn in as Richmond's new public schools superintendent on Feb. 1, 2018, he was not totally aware of the depth of challenges ahead of him.
The 2005 National Teacher of the Year, his wife, Miwa, and two young sons, Ezra, 8, and Akiva, 6, were excited to move to Richmond from Washington, where Mr. Kamras had been a star in that public school district and an education adviser to former President Barack Obama.
Since taking the helm of Richmond Public Schools, Mr. Kamras has been faced with major accreditation issues for the city's 44 schools, poor student performance and a city government grappling with how to fund renovation or replacement for dilapidated, crumbling school buildings.
Over the course his first year in Richmond, Mr. Kamras has worked with the School Board and the community to produce Dreams4RPS, the school system's 2018-2023 strategic plan; completed a Memorandum of Understanding with the Virginia Department of Education in an effort to have more schools become accredited; engaged the community in helping to clean up deteriorated schools through RPS Shines!; and has hired new leadership to work with the community to narrow gaps in academic achievement and social justice that plagued previous administrations.
Although Mr. Kamras couldn't give himself a grade for the first year, he said, "We (RPS) must confront all of our challenges and be honest about them. Name them and deal with them, and then you move on. That is what we have been trying to do."
He said he also has plans to "kick off the discussion on rezoning and RPS' complete inventory of facilities, whether it is closing or consolidating facilities," as well as examining non-instructional facilities.
With some challenges behind him and others looming, the Free Press sat down with Mr. Kamras after a busy day of visiting schools to get his views on his first year in Richmond.

RFP: What are your major first year accomplishments?
Mr. Kamras: There are three big things I am excited about. First and foremost, our strategic plan, Dreams4RPS. It is not my plan. It is not the board's plan. It is really our plan — the city's plan, the community's plan. We had more than 3,000 people participating in more than 170 meetings to debate the future of RPS.
I am extremely proud we have this incredible map for the future, which truly reflects our children's and our families' dreams. The administration has a budget proposal for the strategic plan estimated at $150 million over five years. I shared that with the School Board and we shared the proposal with the public. That is why we are advocating for more money — first and foremost from the state, which has been short-changing public schools for quite some time — as well as from the city.
Secondly, renaming J.E.B. Stuart to Obama Elementary is but a symbol that's so powerful given the history of Richmond. It speaks to the kind of city we want to be in the future and the kind of schools division we want to be — inclusive where every child and every family is welcome. I doesn't matter what your skin color or what language you speak at home or what faith you are. We are a school system that believes in every single child.