100 days
New schools chief still energetic, optimistic
5/19/2018, 1:34 p.m.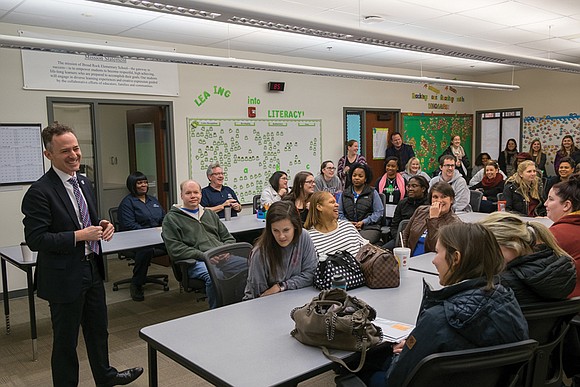 By Ronald E. Carrington
Richmond Schools Superintendent Jason Kamras has spent the last 100 days engaging with school community while trying to calm the storms from previous administrations.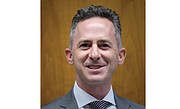 Since his arrival Feb. 1, the 44-year-old former Washington public schools administrator and 2005 National Teacher of the Year has spent two to three hours at each of Richmond's 44 public schools, talking with students, teachers, staff and principals. He has read books to students and taught a couple of math classes.
It is part of his plan for engagement, equity and excellence, core values he espoused in his 100-day plan.
"I have probably spent 80 percent of my time connecting with people — at schools, in the community, in homes and at different events all across the city," Mr. Kamras said in a recent Free Press interview.
He wants RPS teachers and staff to follow his example by going out in the community and making home visits.
"I hope that they see that engagement is not just a word for me," Mr. Kamras said. "I hope folks are seeing and feeling that they know that I am trying very, very hard to be fully engaged with the community. It is not just me, but the entire school system."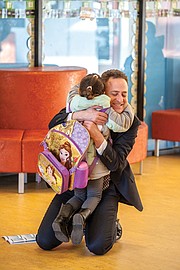 Since 2002, RPS has had five superintendents, leading teachers to express concern over what they view as a revolving door of leadership that has caused chaos, confusion, a lack of vision and little concern for deteriorating school facilities.
A Broad Rock Elementary School teacher with 24 years of experience informed Mr. Kamras during his meeting at the school, "With all that (turnover), the students are not going anywhere."
Standing before that group in South Side, Mr. Kamras responded that he is committed to staying through the term of his contract, which runs through June 30, 2021.
"One of the things I have tried very hard to do is to be exceedingly clear about what the reality is," Mr. Kamras said regarding ongoing school system issues and decisions. "When I feel that the reality is distorted, I call that out."
Even with his initial steps reaching out to teachers and others, Mr. Kamras faces a laundry list of issues and seemingly insurmountable challenges left over from previous administrations, as well as major financial hurdles to get the system back to a finely tuned educational machine.
Mr. Kamras has spoken often and loudly about equity and making sure that the students needing the most get the most while also helping them confront the barriers they face, whether that is poverty or institutional racism or trauma in their lives.

One of RPS' formidable goals is to offer a world-class education to all 24,000 public school students. The Richmond School Board defines that, in part, as meaning all schools are accredited and students are in modern, properly maintained facilities free from unhealthy conditions.
Mr. Kamras has vowed, without giving full details of the plan, to have all 44 schools accredited by 2023. Currently, 19 schools are fully accredited.