New superintendent works to engage, build trust with school community
2/16/2018, 4:21 p.m.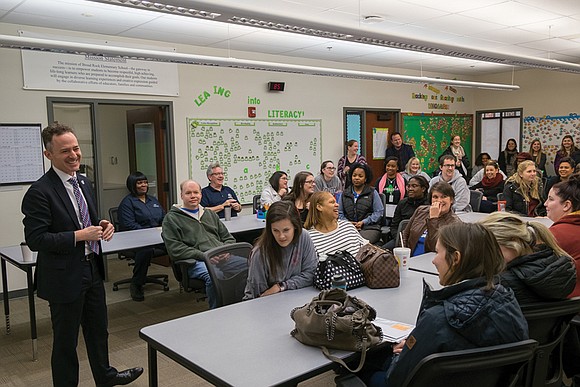 By Ronald E. Carrington
Superintendent Jason Kamras finished his first full week as the new head of Richmond Public Schools fielding a round of tough questions from about 50 teachers, staff and administrators at Broad Rock Elementary School.
The 44-year-old former Washington public schools administrator and National Teacher of the Year was calm, cool and collected as he answered questions about the lack of bilingual staff in RPS schools and offices, the overwhelming needs of students and the lack of consistency at the top.
"The system's superintendent revolving door has caused chaos, confusion, a lack of vision and deteriorating facilities," a veteran teacher with 24 years of experience told him. "With all that, the students are not going anywhere."
Since 2002, RPS has had five superintendents. Mr. Kamras, who was sworn in on Feb. 1, is the sixth. He was tapped unanimously by the Richmond School Board to lead a district that faces major issues, including poor student performance, low school accreditation rates — only 19 of the city's 44 schools are fully accredited — and a major city debate on how to fund long-overdue repair or replacement of dilapidated school buildings.
Standing before the group in the early morning meeting at the South Side elementary school before the first bell last Friday, Mr. Kamras responded that he is committed to staying through the term of his contract — it runs through June 30, 2021 —and that he didn't understand why people bounce around from one urban school district to another.

He said he loves Richmond, and that his two children will be enrolled in RPS after finishing the current school year in Washington.
The group applauded.
By the time Mr. Kamras finished answering all the questions, he clearly had gained the confidence of those in the room.
"It was so powerful this morning when you, Mr. Kamras, talked about social justice and how every child deserves an education," a teacher told him. "I saw you connecting with the children. Now I'm thinking we've got the right one.
"I saw all the hoopla and celebration with the last" superintendent, the educator continued. "But you are the one and you have my vote."
On the need for bilingual help, Mr. Kamras said, "Servicing the bilingual community will be a priority for RPS. The system does not have enough staff or the right ratio on the English as a second language teachers," he said.
Through an interpreter, parents complained at a Feb. 5 School Board meeting that more bilingual teachers and support staff are needed. They said they have a difficult time communicating not only with teachers and counselors, but support staff in dealing with everyday school matters, including transportation issues.
It also has become an issue at Broad Rock, where roughly 35 percent of the students are Latino and nearly 2 percent are Asian.
The RPS Welcome Center designed to support the district's non-English speaking families also is understaffed, Mr. Kamras and a teacher said.
"We have to figure out how to fix that," Mr. Kamras said.