More problems for RPS with undercount of ESL students
Richmond Public Schools has a history of undercounting students needing English as a Second Language assistance, creating a loss of hundreds of thousands of dollars in state funding that could help provide more ESL teachers in the city, a schools official told members of the Richmond School Board on Monday.
As a result, roughly 800 students needing the support and services ESL provides didn't receive it, according to administration sources. Some classrooms were overpacked, however, straining ESL teachers currently working with RPS. Currently, 3,000 students in the city's public school system are designated as needing ESL services. The undercount caused RPS to miss out on roughly $600,000 in additional state funds to hire more teachers and boost the program.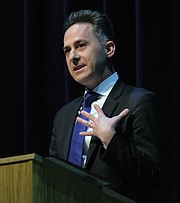 "As best as I can tell, the ESL undercounting issue goes back many years," RPS Superintendent Jason Kamras told the Free Press. "It's my issue now. I take responsibility for it. We are focused on getting it right by taking all of the necessary steps to correct the problem. There is still more to do."
The need for ESL teachers and services is critical in a school system of 24,700 with a growing Latino population reported at 4,218 in 2018-19 and up by 746 from the 2016-17 school year. The district used part of its $12.5 million budget increase from the city in 2018-19 to hire five additional ESL teachers, nine bilingual support staff members and three bilingual counselors. But anticipated state ESL funding for the 2019-20 school year will be short of the actual need, officials said. Dr. Tracy Epp, RPS' chief academic officer, told the School Board that a revised count of ESL students will be submitted to the state Department of Education with a request for additional funding. She said RPS plans to add 12 new ESL positions in the fall. She said Boushall Middle School would get three new positions, bringing the total there to five; Broad Rock Elementary, two new positions for six total; J.L. Francis Elementary, one new position for a total of three; E.S.H. Greene Elementary, four new positions for a total of 10; G.H. Reid Elementary, one new position for five total; and George Wythe High School, one new position for four total. Figures for the current number of ESL teachers were not available.
"RPS teachers, in the fall of this school year, were reaching out as they were working to get a handle on how our ESL students were being served," Dr. Epp said. It became clear that the number of students our teachers were serving was more than our count indicated."
All RPS students take a survey to determine the predominant language spoken at home. Based on the results, another test is taken to determine the students' English proficiency and how much support they need in English as a second language. One of the daunting issues facing RPS and other school districts with large Spanish-speaking communities is a lack of front office staff in schools who speak Spanish or another language. Mr. Kamras said several bilingual staff members were added during the last school year, particularly in schools on South Side. RPS, he said, is stepping up its recruitment efforts for employees with multiple language skills. He also urged people to volunteer at schools.
"We welcome anyone willing to volunteer as we work through this issue," he said. "Community members or retirees with language skills can go up to a school, ask for the principal and tell them you'd love to help."