Personality: Morris Roberson
Spotlight on Central Virginia Chapter president of NOBLE
2/2/2018, 6:24 a.m.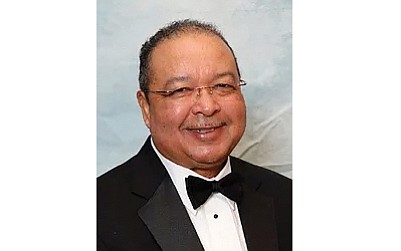 We are all one community. Law enforcement is just one of the many professions found among the people in our community.
So says Morris Roberson, president of the Central Virginia Chapter of the National Organization of Black Law Enforcement Executives, or NOBLE.
The chapter works with Richmond area residents to make sure they are safe, more informed and knowledgeable about law enforcement through a variety of programs.
Among them is "The Law and You," started 17 years ago. The presentation focuses on "how best to interact with law enforcement under any circumstances," Mr. Roberson says.
All circumstances are not adversarial, he says.
"An officer may knock on your door to interview you about an individual down the street who has applied for a law enforcement position and they are just doing a background investigation to establish suitability for the agency." NOBLE was founded in September 1976 during a three-day symposium coordinated by the Joint Center for Political Studies to address crime in low-income urban areas.
Seeing the need for an organization that would address their community needs, top-ranking African-American law enforcement professionals representing 24 states and 50 major cities gathered for the Washington conference. They pledged to ensure equity in the administration of justice when protecting and serving all communities, as well as being the conscience of law enforcement by being committed to justice through action.
The national organization currently has more than 60 chapters. The Central Virginia Chapter has about 45 members ranging from law enforcement's executive level to patrol officers. Civilians and university students interested in the organization's goals and mission also are members.
Mr. Roberson, 70, a retired U.S. postal inspector, says the Central Virginia Chapter has helped people across the city and the nation. Members went to Ferguson, Mo., following the fatal 2014 shooting of 18-year-old Michael Brown by a white police officer.
The chapter also uses a MILO simulator, in partnership with the Richmond Police Training Academy, to educate students and adults on police pursuits and use of force. It gives participants an opportunity to see how they would react in fast-paced, stressful scenarios, Mr. Roberson explains.
"It's an attitudinal game changer," he says. "A lot of people see things on the news on TV, and everybody has an opinion. But the real world is unlike what they see on TV." The simulator helps to drive that point home.
The chapter also helps with HopeLine, a Verizon program aimed at helping to prevent domestic violence by providing refurbished cell phones and funds to shelters for survivors of domestic abuse.
"A lot of people that get in trouble, especially in domestic violence, don't have a way to call the police," Mr. Roberson says. The donated phones help, he says.
He wants people to understand that "99 percent of police officers go to work and do the best they can every day for their communities. They have families, too," he says.
Meet law enforcement advocate and this week's Personality, Morris Roberson:
Community involvement: President, Central Virginia Chapter of the National Organization of Black Law Enforcement Executives, or NOBLE.