Personality: Jeree M. Thomas
Spotlight on inaugural winner of the youth justice Emerging Leader Award
7/8/2016, 5:30 p.m.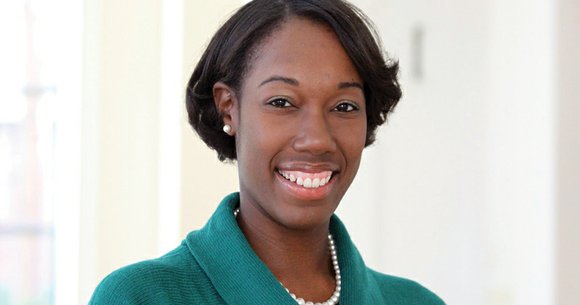 Jeree Thomas believes in doing whatever she can to help her clients live more successful lives. The attorney with the JustChildren program of the Legal Aid Justice Center in Richmond provides counsel for children and represents them at special education and public benefits hearings.
The program also works to increase parental involvement and student success by offering workshops across the state to parents, social services departments, foster care providers and other organizations working with children.
"I have done everything from going to court and making creative legal arguments to get kids home to their families, to testifying in front of legislators and boards," said Mrs. Thomas, whose clients range from age 4 to 21.
In one case, Mrs. Thomas made an eight-hour, round-trip drive to a correctional facility to take home a released youth who otherwise would have spent additional time locked up because he lacked transportation home.
Mrs. Thomas' work has not gone unnoticed. The 29-year-old attorney recently was named the inaugural recipient of the Youth Justice Emerging Leader Award, which honors an advocate for youth justice who embodies passion, boldness and perseverance.
The award, created by the National Juvenile Justice Network, also honors persons who are committed to lifting the voices, experiences and expertise of youths and people of color to ensure that those most directly impacted by injustice are at the forefront of the youth justice movement. Mrs. Thomas will receive the award July 26 during the NJJN's Youth Justice Leadership Institute in Memphis, Tenn.
"Jeree's the embodiment of an emerging leader in youth justice reform," said Sarah Bryer, director of the NJJN. "In addition to her work representing individual youths caught up in the justice system, she helped create Performing Statistics, an innovative advocacy-through-art project, the first of its kind in Virginia, in which incarcerated youths create art in support of reform."
Emerging Leader award nominees must have been engaged with youth justice advocacy for five years or less. Mrs. Thomas began her work with JustChildren in 2011 with a two-year award from the Skadden Fellowship Foundation. The foundation is also known as the "legal Peace Corps" because it attracts some of the brightest young lawyers in the country who begin their careers in public interest work.
Mrs. Thomas said she became interested in law as an undergraduate student at The College of William & Mary. Her intentions to become a screenwriter were abandoned after she took a course, "Blacks in American Society," which required a service-learning component.
Mrs. Thomas worked with youths in an alternative school program and observed how situations of trauma affected some of the students. She decided then that child advocacy was her calling. From that point on, she directed her education and work experience toward meeting her goal.
Angela Ciolfi, JustChildren's legal director, says Mrs. Thomas' "calm and polite demeanor" shouldn't be misinterpreted. "She is a true force to be reckoned with," said Ms. Ciolfi. "When Jeree identifies an injustice impacting JustChildren's young clients, she moves swiftly and steadily toward resolving it, and you can count on her to succeed in doing so. Jeree's commitment to her individual clients, as well as to systemic reform as a whole, is powerful and inspiring."