Personality: James E. 'J.J.' Minor III
2/10/2017, 9:09 p.m.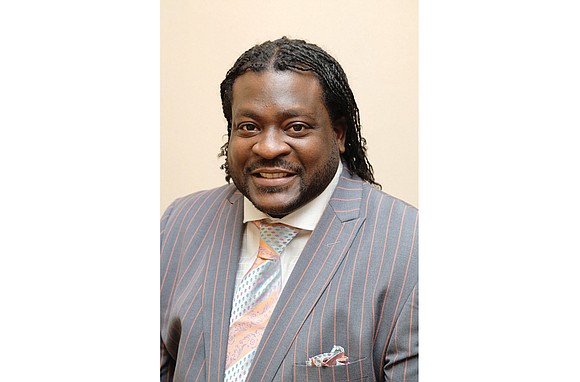 When James E. "J.J." Minor III, the newly installed president of the Richmond Branch NAACP, was pulled over while driving more than 15 years ago, he never imagined he'd be in fear for his own life.
Mr. Minor, whose hair was in twists, was driving through his Church Hill community when he was stopped by a white, male police officer. When asked for his license and registration, the situation took a turn for the worse.
"As I proceeded to reach for my registration, he hit me in the chest with his hand and stuck a gun to my head," Mr. Minor says. "I am haunted by that traumatizing incident. It's an experience I will never forget."
He went before Richmond City Council to report what happened and filed a formal complaint with the Richmond Police Department. "But nothing ever happened," he says.
That experience is just one that propels Mr. Minor's activism within the Richmond community. The rights of citizens when interacting with law enforcement, criminal justice reform, education and voting rights are just a few of the issues he wants to address during his tenure as president of the local civil rights organization.
"Building trust between the police and the community is important," Mr. Minor says, noting that he has worked on several collaborative efforts with Richmond Police in the East End since his encounter. He says the Richmond NAACP's focus is in alignment with the state chapter's agenda for the 2017 legislative session, with education being the new civil rights issue in Virginia.
"It is imperative that every child have access to quality, equitable and excellent education," he says. "There must be quality education for every child in public schools on the elementary and secondary levels, and affordable education and training for those who are seeking higher education opportunities, armed services or skill training for employment or entrepreneurship.
"Every child must have a clear pathway to success in reaching their maximum potential."
Mr. Minor was introduced to the NAACP by his mother, state Delegate Delores L. McQuinn, who represents a portion of Richmond, Henrico and Chesterfield in the Virginia House of Delegates. His mother, he says, joined when she was a youth and is a life member. She used to take him to meetings when he was a youngster.
As an adult, he has been active with the NAACP for many years, serving on the Richmond chapter's executive committee before being elected to the top position last year. He was installed as president in mid-December for a two-year term. He is working on his life membership.
He recognizes that many of today's youths are disconnected from the organization. The keys to attracting young people are educating them about the NAACP's history and its relevance in their lives. That's one of the motivations behind his "Membership 1,000" initiative, an aggressive effort to increase the number of chapter members.
"We're in the capital of the Confederacy," he said. "We have to educate people about why we exist and get back to making a difference, fighting the good fight."