Fight brewing over Richmond NAACP leadership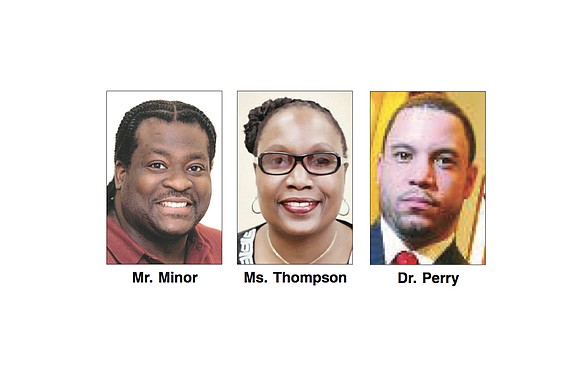 A leadership fight has entangled the Richmond Branch NAACP.
President Lynetta Thompson is facing opposition in her bid for re-election to a second, two-year term.
Her challengers are Dr. Ravi K. Perry, an associate professor of political science at Virginia Commonwealth University, and James J. "J.J." Minor, chairman of the Richmond City Democratic Committee and son of Richmond Delegate Delores L. McQuinn.
The three candidates will square off in the branch's election for officers and directors next Tuesday, Nov. 22.
NAACP members who have been financial for at least 30 days are eligible to cast a ballot from noon to 6 p.m. at Club 533, 700 N. 3rd St. in Jackson Ward.
Results are to be announced during the branch meeting that will follow the election at the club.
The Richmond NAACP has about 800 people on its membership rolls.
"I don't mind being challenged," Ms. Thompson said. "I'm just wondering why they are challenging me rather than seeking to work together."
She said during her first two years, the number of people attending meetings and participating on committees has grown as the branch has become more involved in issues involving schools and public transit.
Among other things, she noted the branch has filed a civil rights complaint against Richmond Public Schools for high levels of suspensions of African-American and disabled students.
During her tenure, the branch also has challenged the Bus Rapid Transit system over concerns about GRTC's ability to serve other areas of the city and provide adequate connections to the BRT.
Dr. Perry, along with teaching, serves as president of the VCU-based National Association for Ethnic Studies. He also has been out in the community. He serves on the board of Diversity Richmond and garnered headlines when he led a program on "white privilege" at Glen Allen High School in Henrico during Black History Month last February.

Mr. Minor, meanwhile, is active in Democratic politics, working on various campaigns and also leading the city Democratic committee.
He apparently has been on the outs with Ms. Thompson after she spoke at a Richmond City Council meeting in support of expanding a memorial to enslaved people in Shockoe Bottom. In her comments, she apparently was critical of Delegate McQuinn's leadership of the Richmond Slave Trail Commission, which is playing a role in the memorial's development.
Others suggest that Mr. Minor is seeking to expand his influence or is trying to find a new leadership post because of the backlash he could face from the city Democratic committee for organizing a political action committee to support candidates for City Council and the Richmond School Board that Mr. Minor favored but who did not receive the city Democratic committee's endorsement.
On Oct. 25, two weeks before the November election, Mr. Minor and Sandra Antoine, vice chair of the city Democratic committee, filed papers with the state Department of Elections to establish the Greater Richmond Regional Democratic Coalition PAC.
Mr. Minor listed himself as president of the PAC, which ultimately endorsed five candidates whom the city Democratic committee did not back, including two incumbent council members, Ellen F. Robertson, 6th District, and Reva M. Trammell, 8th District, both of whom were re-elected on Nov. 8. Three other candidates the PAC supported did not win their races for city office.