House District 70: Delegate Delores L. McQuinn, Democrat (incumbent) vs. David B. Vaught, Independent
George Copeland Jr. | 10/21/2021, noon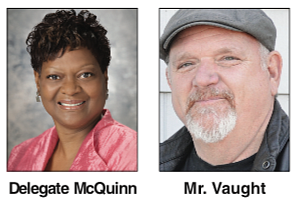 Democratic Delegate Delores L. McQuinn is facing the first challenger for her seat representing House District 70 since 2009.
The challenge is from independent candidate David B. Vaught, owner of a security company who is a newcomer to politics.
The district include portions of Richmond's Church Hill and East End and sections of Henrico and Chesterfield counties and all of Charles City County. The district is staunchly Democratic based on past election results.
Delegate McQuinn, 66, associate minister of New Bridge Baptist Church in Highland Springs, has a long history of public service. Before being elected to the House of Delegates, she served several years on the Richmond School Board and Richmond City Council.
In the House, she has taken on a leadership role as chair of the House Transportation Committee. She also serves on the powerful Appropriations Committee, as well as the Education and Rules committees.
She has worked on a range of issues, including repeal of the death penalty in Virginia, gun control and food insecurity. According to her campaign, she will continue to push for a progressive agenda in the General Assembly if re-elected.
Mr. Vaught, a native of Staunton, grew up in Chesterfield County. His campaign touts his election as a "new start and fresh beginning" for the district, which he said has lacked communication and adequate representation from Delegate McQuinn.
His campaign has focused on community safety, better access to essential services like grocery stores and the internet and improving public schools.
Campaign finance reports show Delegate McQuinn holding a sizeable advantage over Mr. Vaught in fundraising. As of Sept. 30, Delegate McQuinn has raised $126,139, while Mr. Vaught has raised $16,452.