Personality: The Rev. Kevin L. Chandler
Spotlight on new state NAACP president
11/17/2017, 7:18 p.m.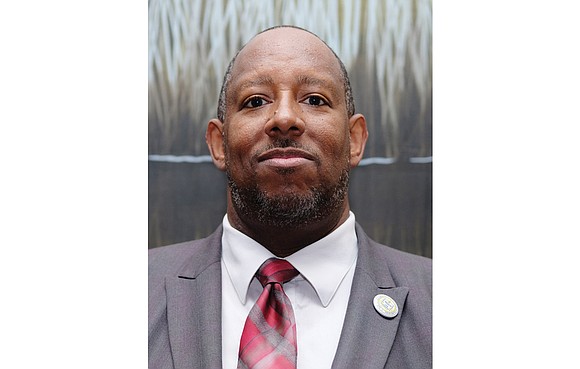 "Injustice anywhere is a threat to justice everywhere."
Those words by civil rights icon Dr. Martin Luther King Jr. are what the Rev. Kevin L. Chandler lives and leads by. The 54-year-old New Jersey native and pastor of Trinity Baptist Church in South Boston, located about 100 miles southwest of Richmond, is the new president of the Virginia State Conference of the NAACP.
He was elected to the top volunteer post by delegates attending the civil rights organization's 82nd annual convention held last month at a Henrico County hotel.
With racial, religious and other forms of hatred on the rise and the current administration in Washington seeking to roll back gains, Rev. Chandler says, "Now is the time when we must be that civil rights organization of old.
"We don't have to accept acts of hate and civil rights destruction. There is a voice that says, 'No,' and that voice is from the NAACP."
Rev. Chandler's message is simple: "Unity — working together in a concerted effort."
"There is power in numbers," Rev. Chandler says. "Rally with those who think inequality is wrong."
Rev. Chandler says under his leadership, the organization's priorities will continue to include "seeking educational equality that ensures that every child receives a quality, well-funded public education;" criminal justice reform and addressing the school-to-prison pipeline; and ensuring access to health care.
"In the present atmosphere of trying to sabotage the Affordable Care Act, we need to protect health care for all," including Medicare, Medicaid and other health programs, he says.
He plans to tackle those issues and more during his two-year term.
Rev. Chandler's journey to the NAACP's top volunteer post in Virginia involved an education in the organization's mission and inner workings that started in 2000 when he became actively involved in the Halifax County-South Boston Branch NAACP under the late president, Roger J. Ford.
Rev. Chandler later became president of the local branch for eight years and then served as vice president of the state NAACP for two years.
He says while there are "a lot of different opinions, ideas, strategies and suggestions …that cause internal battles" within the NAACP, "the true battles are outside."
He wants to improve communication between the state NAACP and the branches around the commonwealth so everyone is better equipped to address issues in their local communities.
Rev. Chandler traces his activism to his family and his experience as a pastor. At age 13, his parents sent him from New Jersey to Halifax County to live with his grandparents. At the time, he recalls, the Ku Klux Klan was active in the area.
"The Klan would go to local white restaurants and sit in their cars to try to intimidate and make sure no black people would try to eat there," he says. "Nothing would be done or said to anyone. They would just sit in the parking lots." He says while the public schools he attended were largely African-American, "our teachers were vested in student success. They pushed us to do our best and had our best interest in mind," he says.