N.C. Moral Monday leader urges local NAACP to mobilize
Free Press staff report | 11/13/2015, 5:10 p.m. | Updated on 11/13/2015, 5:10 p.m.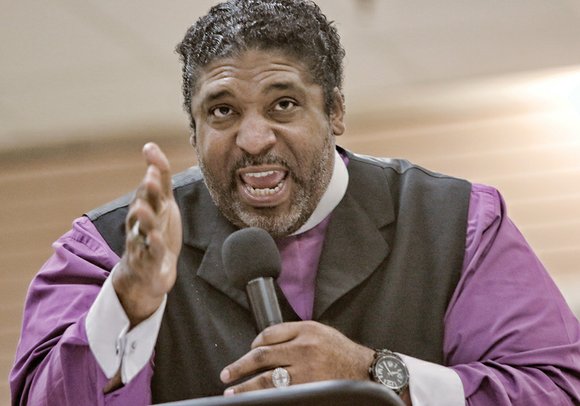 Free Press staff report
"This is no time for foolishness," said the Rev. William J. Barber II in an energizing message at the Richmond Branch NAACP's Freedom Fund Awards Gala last Saturday.
Dr. Barber urged the audience of about 300 people to fight against inequities in Virginia as they have since 2013 with regular and massive Moral Monday demonstrations in North Carolina — by protesting the General Assembly's refusal to expand Medicaid health care to hundred of thousands of uninsured Virginians and by "mobilizing and marching our voters to the polls."
He called the 20 ministers in attendance to the foot of the stage at Second Baptist Church of South Richmond and challenged them to plan "the first civil disobedience" to push Virginia to expand Medicaid.
"In such a time in this country where the Constitution says there is equal protection under the law, too many people are sniffing Koch — what's being put out by the conservative Koch brothers — and are drunk on the poison of the Tea Party," Dr. Barber said.
The 52-year-old pastor and president of the North Carolina NAACP also serves on the board of the national NAACP. He has worked tirelessly, though unsuccessfully, against rollbacks in voting rights in North Carolina that affect African-Americans and communities of color.
He said the NAACP has a mission to educate people about the inequities and injustices perpetrated in communities across the South, including inequitable funding for education, a lack of health care for all, unfairness in the criminal justice system and policies such as refusing to raise the minimum wage that are anti-labor and anti-poor people.
He said while African-Americans are disproportionately affected in many cases, large numbers of white people also are harmed by the decades-long strategies designed to pit black people and white people against one another.
"It's more than the Republican Party," he continued. "It's extremists. The Democrats don't do what they should when they have the power. And the Republicans do what they shouldn't when they get the power.
"When race trumps common sense, it's no time for foolishness."
He also called on the audience to undergo a "three-hour fast" because of a catering snafu at the event, saying he personally would refund the $40 ticket price of anyone who wasn't fed by his message.
Richmond NAACP President Lynetta Thompson and James "J.J." Minor, the master of ceremonies, carried off the event despite the banquet food being served after 10 p.m. The audience enjoyed music of Jazz Friends and an interpretive dance by Neolani Corey, all local students.
The civil rights organization also presented several awards to people and organizations making a difference in the community.
• Religious Affairs Award/Interfaith Community Service Award: Dr. Morris Henderson, pastor of Thirty-first Street Baptist Church in the East End.
• Trailblazer Award: Virginia Alliance Against Mass Incarceration and its past chairman, Dr. Emory Berry Jr., pastor of Fourth Baptist Church in the East End.
• Civil Rights Unsung Hero: Dr. Edward H. Peeples, a retired professor in Public Health and Behavioral Science at Virginia Commonwealth University.
• Economic Empowerment: Arthur Burton, founder and executive director of Kinfolks Community, a group seeking to uplift Mosby Court public housing residents and others.
• Freedom Fighter Award: Southern Christian Leadership Conference and its Richmond chapter president, the Rev. Rodney Hunter, pastor of Wesley Memorial United Methodist Church in Church Hill.
• Great Expectations Youth Award: Elijah Coles-Brown, a Henrico County fifth-grader, who inspires audiences with speeches on social justice issues.
• Housing Education Award: Christie V. Smith, executive director of Neighborhood Housing Services of Richmond.
• Media Award: Preston Brown, president of WCLM 1450 AM radio station and publisher of Heart & Soul newspaper in Richmond.
• NAACP President's Award: Eddie L. Radden Jr., a lifetime member of the NAACP and a current Richmond Branch NAACP member.
• NAACP Youth Award: Pascaline Ezouah, president of the Virginia Commonwealth University NAACP Chapter.