Photo of then-Sen. Obama and Minister Farrakhan may have tanked presidential chances
2/2/2018, 6:28 a.m.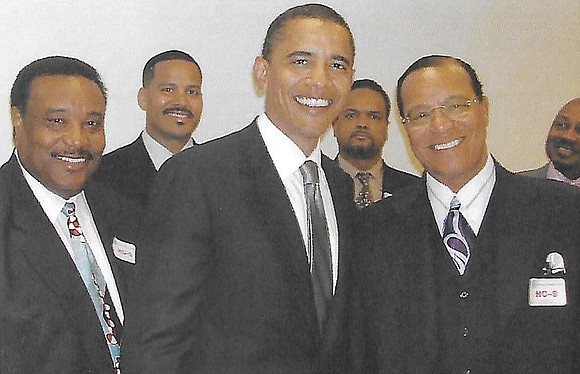 She questioned what the release of the photo will mean "even now because there are so many conspiracy theories still floating."
President Obama, who is a Christian, constantly had been the target of bigoted attacks, Dr. Nunnally pointed out. When a woman called him an Arab during a public forum, even his 2012 re-election opponent Sen. John McCain retrieved the microphone and corrected her, saying, "No ma'am. He's a decent family man."
Dr. Nunnally also recalled how former Secretary of State Colin Powell once weighed in against negative stereotyping of Muslims saying, "He's a Christian … But the really right answer is, what if he is" a Muslim?
Dr. Nunnally concluded, "There are many, many, many layers of what that picture can represent to people in their various perceptions. So, I say this to mean that I can see that the release of that photo in that given moment, it would have been highly controversial."
Also pictured in the photo are Minister Farrakhan's son-in-law, Leonard Farrakhan Muhammad; his son and security chief, Mustapha Farrakhan; Minister Farrakhan's son, Joshua Farrakhan; and the Rev. Willie Wilson, executive producer of the program for the Million Man March in 1995 and a chairman of the 20th anniversary march.
Columnist and political observer A. Peter Bailey said he believes the photo would have created controversy for President Obama, but could not have caused him to lose the election or his re-election because of the groundswell of black voter support.
"It could have done some damage," Mr. Bailey said. "But nothing could have stopped the election because black support would have countered it."