Louis Farrakhan Jr., 60, oldest son of Nation of Islam leader, dies
6/21/2018, 4:10 p.m.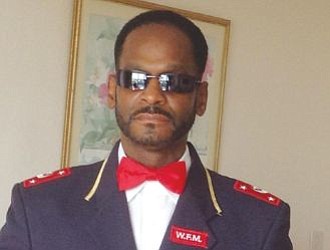 A Janazah service, a Muslim burial service, was held Friday, June 8, at Mosque Maryam in Chicago for Louis Farrakhan Jr., the eldest son of Minister Louis Farrakhan, leader of the Nation of Islam, and Mother Khadijah Farrakhan.
Mr. Farrakhan died in his sleep Friday, June 1, 2018, at a family home in Phoenix. He was 60 and suffered from a heart condition, the Nation of Islam stated in a news release.
He was one of nine children of Minister Farrakhan, 85.
"We thank Allah (God) for the life of Louis Jr., his contribution to the rise of black and oppressed people and for touching so many of us in a deep and very personal way," the statement said.
"He worked alongside his father and family in fulfilling the mission of the Hon. Elijah Muhammad and the Nation of Islam and his dedication and sacrifice to our cause will never be forgotten."
When Mr. Farrakhan was not helping with his father's cause, he enjoyed designing clothing and creating art, said Richard B. Muhammad, editor of the Nation of Islam's newspaper.
"Louis Farrakhan Jr. was a very lively, warm person with a great sense of humor," Mr. Muhammad said. "It was really a joy to be with him."
A spokeswoman for the Phoenix Police Department said officers responded to the Farrakhan residence about 9:30 p.m. June 1. "There were no indications of foul play," Sgt. Mercedes Fortune stated in an email.
Police said the Maricopa County, Ariz., medical examiner will determine the cause of death.
The Nation of Islam is headquartered in Chicago's South Shore neighborhood.