Save Our Girls webcast slated for April 18
4/16/2015, 9:59 a.m.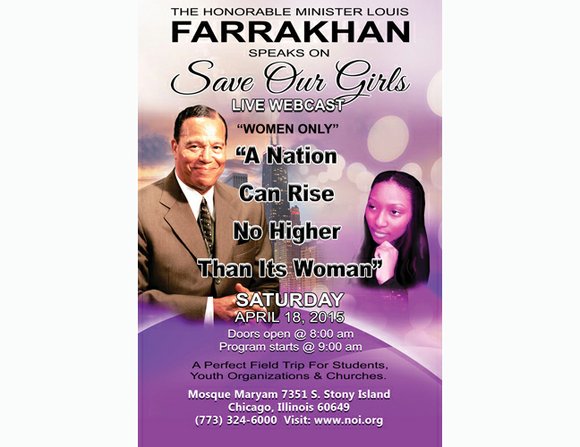 The Nation of Islam is holding an event designed to uplift and empower African-American women.
The event is called "Save Our Girls."
The event's theme: "A nation can rise no higher than its women."
Nation of Islam leader Minister Louis Farrakhan will deliver the keynote address via webcast from Mosque Maryam in Chicago.
Locally, Muslim Girls in Training and the General Civilization Class of Muhammad Mosque #24 on South Side is hosting a concurrent event to watch the webcast from 9 a.m. to 1 p.m. Saturday, April 18, at Fifth Baptist Church, 1415 W. Cary St., in the West End.
Women and girls of all ages and faiths are invited to attend the free event, where refreshments will be provided, said one of the organizers, Maria Muhammad.
The event is being held to address the issues confronting women. Among them: The high rate of HIV among African-American women, the disparate rates of their incarceration, a growing number of domestic violence incidents against them and the need to support black women who head single-family households.
Details: Saveourgirlsva@gmail.com.
Free registration is at Eventbrite.com by clicking on "Saveourgirlsva."