Richmonders join in Holy Day of Atonement in Jamaica
11/7/2014, 6 a.m.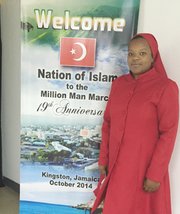 Maria Muhammad called it "an experience I'll never forget."
The Church Hill resident was among 10 Richmonders who traveled to Kingston, Jamaica, the weekend of Oct. 17-19.
There, they participated in a series of events centered around the Nation of Islam's Holy Day of Atonement.
"You reconcile your differences with one another," said Ms. Muhammad. "It was created out of the spirit of the Million Man March."
The first Million Man March was led by Nation of Islam leader Minister Louis Farrakhan on Oct. 16, 1995, in Washington, to mobilize black men in a grassroots movement of self-help and empowerment on a variety of issues.
In Jamaica, Ms. Muhammad, 30, who worships at Muhammad Mosque #24 on South Side, said she and others gathered Friday, Oct. 17, for a Jummah, or congregational prayer service.
Minister Farrakhan, whose father is from Jamaica and mother from nearby St. Kitts, traveled to the Kingston gravesite of Marcus Garvey, where he laid a wreath of flowers and paid homage to the political leader, publisher, journalist, entrepreneur and orator from Jamaica who was a leader of Pan-Africanism.
On Saturday, Ms. Muhammad said, Nation of Islam members went into poverty-stricken areas of Kingston encouraging the downtrodden, distributing literature and inviting people to hear Minister Farrakhan's keynote address Sunday.
Minister Farrakhan spoke the next day in front of about 15,000 people on freedom, justice and equality, Ms. Muhammad said.
"It was very high spirited," said Ms. Muhammad, who works in hospitality management. "The people of Kingston were very receptive."
Minister Farrakhan is scheduled to deliver the keynote address at the 2nd Annual Black United Summit International 6 p.m. Saturday, Nov. 22, at the Carl J. Murphy Fine Arts Center at Morgan State University in Baltimore. The theme: "Re-Claim, Re-Pair, Re-Form, Re-Produce, Reparations Now."