Former Rams coach returns with Dayton Flyers to play VCU this Saturday
Fred Jeter | 2/9/2018, 8:38 p.m.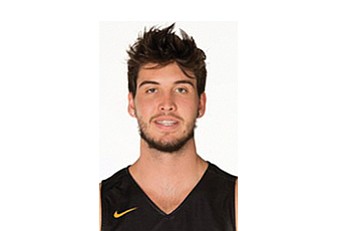 Virginia Commonwealth University and the state of Florida, while far apart geographically, have long been linked on the basketball map.
Sean Mobley, having emerged as a versatile freshman starter, is the latest Ram from the Sunshine State.
The 6-foot-8, 230-pound forward was 4-for-4 from behind the arc and scored 15 points, providing highlights to the Rams' 81-69 loss Friday, Feb. 2, to the visiting University of Rhode Island.
A versatile performer who also passes, defends and rebounds effectively, Mobley is hitting 43 percent (20-47) from the distance and 90 percent (18-20) at the foul line.
Signed by former VCU Coach Will Wade out of Montverde Academy near Orlando, Mobley, who grew up in Cocoa Beach, Fla., chose VCU over offers from West Virginia, North Carolina State, Penn State and Texas Christian universities.
When Coach Wade left VCU for his current job at Louisiana State University, Mobley kept his commitment to VCU when two other signees, Lavar Batts and Mayan Kiir, went elsewhere.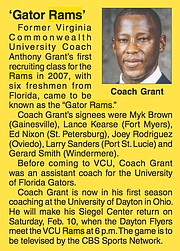 Floridians have played a substantial role during the decades in what is now VCU's 50th year of basketball.
Here are a few players from Florida who made their mark wearing the Rams black and gold:
Keith "Tiny" Highsmith (West Palm Beach): Likely the Rams' first-ever Floridian, the 5-foot-9 guard averaged 8.1 points, six assists, 1974 to 1976, under former Coach Chuck Noe.   
Penny Elliott (Clearwater): Was the first signee for former Coach Dana Kirk. The 6-foot-10 forward averaged 9.4 points, 6.2 rebounds, 1977 to 1980.
Chip Noe (Sanford): Son of former Coach Noe, Chip actually played for Coach Kirk. He averaged 7.5 points, 3.8 rebounds, 1976 to 1977.   
Chris Brower (Fort Walton Beach): Under former Coach Sonny Smith, sank 140 3-pointers (41 percent), 1990 to 1993. In VCU's 1992 win over Virginia Tech, he hit four 3-pointers in a 2:10 span.
George Byrd (Gainesville): This burly 6-foot-8 center scored 936 points, grabbed 668 rebounds and blocked 116 shots under Coach Smith, 1993 to 1997.
Larry Sanders (Port St. Lucie): This 6-foot-11 center had 1,044 points, 766 rebounds and 277 blocked shots, 2007 to 2010. He was a first round draft choice of the Milwaukee Bucks.
Ed Nixon (St. Petersburg): Known as "The Blanket" for his tight defense, he had 751 points and 111 career steals, 2007 to 2011; He was the defensive key to the Rams' 2011 NCAA Final Four run.
Joey Rodriguez (Oviedo): Perhaps the most popular Ram ever, he had 1,362 points, 580 assists, 237 steals and 211 3-pointers, 2007 to 2011. He's now a VCU assistant coach.
Doug Brooks (Lake Wales): Versatile guard known as "Dougie Buckets," he had 563 points, 170 steals, 273 rebounds and 139 assists, 2013 to 2017. 
There have been numerous others, including a couple with famous names:
Michael Gilmore (Jacksonville): Nephew of NBA legend Artis Gilmore, he played for VCU from 2014 to 2016.
Lance Kearse (Fort Myers): Cousin of NFL star Jevon Kearse, he was with the Rams from 2007 to 2009.
Traffic hasn't stopped along the corridor from Florida to Downtown Richmond.
Like his coaching predecessors at VCU, Rams Coach Mike Rhoades also has Florida on his talent search list.
The Rams incoming freshmen next season include KeShawn Curry from Andrew Jackson High School in Jacksonville, Fla. Curry is now a post-graduate at Fork Union Military Academy in Virginia.