U.S. athletes bring diversity to 2018 Winter Olympics
Fred Jeter | 2/9/2018, 9:19 p.m.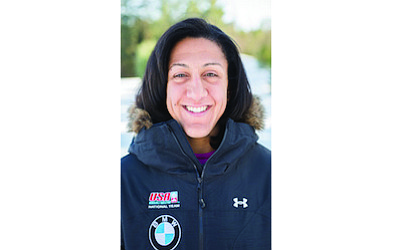 The Winter Olympics, sometimes called the "white Olympics," is gaining in diversity.
The United States delegation of 242 athletes heading to South Korea will include 10 African-Americans, including its first African-American hockey player.
Jordan Greenwood, who currently plays for Boston College, has made the U.S. Olympic team as a left wing. The 6-foot-5 athlete from Potsdam, N.Y., was selected by the Minnesota Wild in the 2015 NHL Entry Draft.
Other athletes of color to watch in PyeongChang:
Hakeem Abdul-Saboor: The former Powhatan High School and University of Virginia-Wise football running back made the team as a "pusher" for the bobsled contingent.
Maame Biney: The 18-year-old native of Ghana, now living in Reston in Northern Virginia, becomes the first U.S. short track speed skater.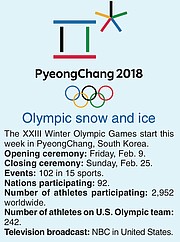 Shani Davis: The 35-year-old Chicago native will be competing in his third Olympics as a speed skater. Davis became the first black athlete to win an individual gold medal in the Winter Olympics with his 2006 victory in the 1,000 meters at the games in Turin, Italy.
Elena Meyers Taylor: Serves as the pilot for the U.S. women's bobsled team. The Californian helped the United States clinch the silver medal at the 2014 Winter Olympics in Sochi, Russia, and the bronze medal in 2010 in Vancouver, Canada. Three of the four members of Taylor's bobsled team are African-American.
Erin Jackson: The 25-year-old Floridian, who just recently converted from roller blades to ice skates, becomes the United States' first black female long track speed skater. 
Kimani Griffin: The 28-year-old Winston-Salem, N.C., resident will make his Olympic debut as a long track speed skater.
Anthony Barthell: From High Point, N.C., he will coach the U.S. short track team.
Also at the upcoming Winter Games will be athletes of color from three Caribbean nations and from the sub-Saharan African nations of Nigeria and Ghana.
People of color have been slow in establishing themselves in the snow and ice.
In 2000, Vonetta Flowers of Birmingham, Ala., became the first African-American to win a Winter Olympic gold medal when she won the two-person bobsled at Salt Lake City.
Figure skater Debi Thomas, a native of New York City, won a bronze medal in 1988 at the Calgary Olympics. 
This year's U.S. Olympic team also will include 11 Asian-American athletes and two openly gay male athletes.