African dance company eyeing former Jackson Ward church building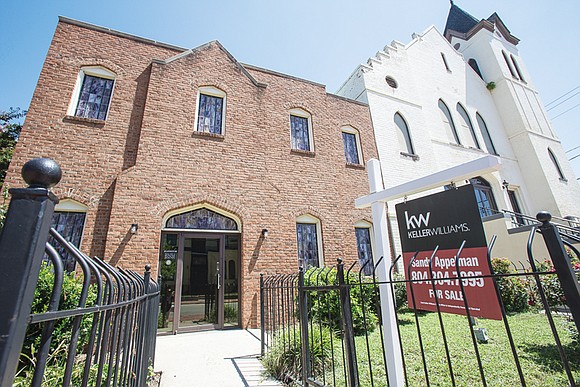 Could the vacant former Sharon Baptist Church in Jackson Ward become a performing arts center for an African dance company and other arts groups?
That's the dream of Tanya Dennis, founder of the 45-year-old Ezibu Muntu African Dance Company and Cultural Foundation, and Renée Knight, the Richmond company's longtime executive director.
That dream could be closer to reality, Ms. Dennis has disclosed.
A private developer has taken an option on the former church building to explore such a development, with Ezibu Muntu to be the anchor tenant, Ms. Dennis said Monday.
It is still early, according to Sandy Appelman of Keller Williams Realty, who is marketing the space.
He confirmed Monday that there "is an option on the building" at 22 E. Leigh St., but said there is no contract. The potential buyer is "doing his due diligence," Mr. Appelman said.
Sharon Baptist, which now holds services in its new space in a shopping center at 500 E. Laburnum Ave. near the Richmond Raceway, has been trying to sell its Jackson Ward property for several years. The current asking price: $650,000, Mr. Appelman said. That's $200,000 less than when it was first offered.
Ms. Dennis founded Ezibu Muntu in 1973 while teaching at Virginia Commonwealth University.
Her goal: To expose the Richmond community to African culture, history and values and to introduce African-American children to the heritage of their ancestors.
Ms. Knight, who also introduced African dance into Richmond Public Schools as a teacher, has led the program for more than 40 years. She and other students of Ms. Dennis organized Ezibu Muntu into a nonprofit after graduating from VCU.
The 75-member company, which includes a children's dance troupe, has performed at schools and other venues through the years, according to information on the company's website.
Despite financial and other challenges during the past decades, Ms. Knight said Ezibu Muntu has been unwavering in seeking "to enrich the diversity of our community and provide creative resources to strengthen, nourish and inspire current and future generations."
The company has been looking for more space for several years, and Ms. Dennis believes the 13,000-square-foot former church building would be ideal as a center for music, dance and theater programming.
She estimates that it would cost about $2.8 million to buy and transform the building into the envisioned Leigh Street Event Center that would offer classes, conferences and community shows involving Ezibu Muntu and other arts groups who need space for banquets, performances and other activities.

The project, though, had languished because of lack of funds until the developer recently approached her about moving the project forward. She called it "a miracle" to find someone with the interest and resources to get involved.