Dr. Grace E. Harris, whose leadership helped transform VCU, dies at 84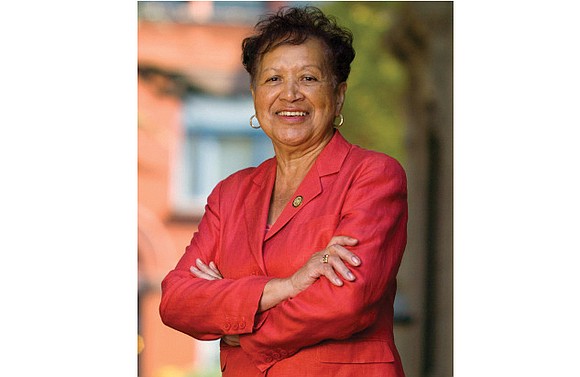 Former Gov. L. Douglas Wilder, a friend and colleague of Dr. Harris at VCU, called her a "rare and iconic visionary" when she fully retired in December 2015.
He said Dr. Harris combined "extreme competence with a deep connection to the needs of the community and its citizens that had a dramatic impact on the identity of VCU and the way it engaged people."
While he was governor, U.S. Sen. Tim Kaine said that he often called on Dr. Harris for guidance on education matters, particularly the appointment of members of the governing boards of state colleges and universities.
Born into a family of scientists and schoolteachers in Halifax County, Dr. Harris went on to graduate from Hampton University.
In 1954, the same year the U.S. Supreme Court outlawed government-enforced racial segregation of public schools, Dr. Harris sought to enroll as a graduate student in the social work program at VCU's predecessor, the Richmond Professional Institute.
Rebuffed because of her race, the recently married new mother took a state grant to study for her master's at Boston University, where her classmates included Dr. Martin Luther King Jr.
Returning home after a year to be with her family, she became a social worker in Hampton, with little expectation of having a future at VCU.

Two years later, she and her husband, James W. "Dick" Harris Sr., moved their growing family to Richmond, where she became a caseworker and ultimately a supervisor in the Virginia Department of Welfare and Institutions.
Meanwhile, she reapplied to RPI, which this time accepted her into the master's program. After earning her master's degree in 1960, she would go on to serve as executive director of the Friends Association for Children, an agency in Gilpin Court, and then move on to direct the anti-poverty Richmond Community Action Program, now Capital Area Partnership Uplifting People, or CAPUP.
But drawn to academe, she joined the faculty of the RPI School of Social Work in 1967, a year before RPI merged with the Medical College of Virginia to form VCU.
During the next nine years, Dr. Harris taught and also took on leadership roles, including director of student affairs for the School of Social Work.
After earning master's and doctoral degrees at the University of Virginia in the mid-1970s, Dr. Harris began her shift to administration.
Promoted to associate professor in 1976, she became associate dean of the School of Social Work two years later. She was promoted to full professor and dean of the school in 1981.
After Dr. Trani arrived in 1990, Dr. Harris was named vice provost for continuing studies and public service. Impressed with her work, Dr. Trani, with approval from the board, named her as VCU's provost three years later.
Her arrival as provost was in part a VCU attempt to demonstrate a greater commitment to diversity, according to news reports at the time. But it also reflected the strong working relationship she had with Dr. Trani and her leadership talent.
"Her strength as a leader was predicated on her belief in the intrinsic value of people," said Dr. Nakeina Douglas-Glenn, director of the Grace E. Harris Leadership Institute and co-author of "Leadership with Grace," an analysis and description of Dr. Harris' methods and style as a manager.