Martin Luther King III brings message of hope to VCU
2/22/2018, 8:52 p.m.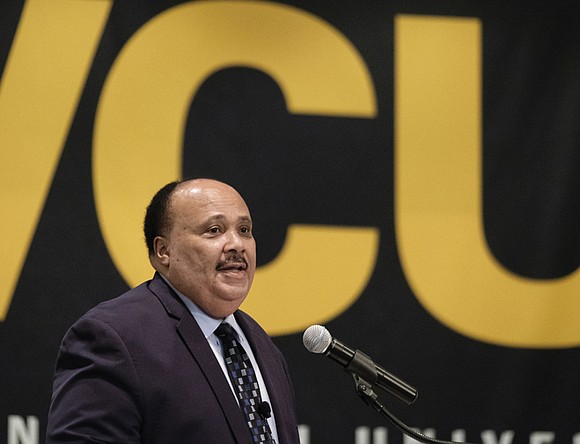 "We are called to do something every single day to … fulfill the dream."
He said the ideals of freedom, justice and nonviolence championed by his father have a special resonance for Virginians in the wake of the bloody protests by white supremacists and neo-Nazis in Charlottesville last August in which 32-year-old Heather Heyer was killed and dozens of others were injured when a Confederate sympathizer drove his car into a crowd of counterprotesters.
"We're a better society, a better nation, than the behavior that we're exhibiting right now," Mr. King said. "We have to find ways to inoculate America's young people, in particular, to resist the toxic virus of racism, sexism, classism, homophobia, anti-Semitism, xenophobia and all forms of bigotry, which too often thrive where there's poverty and social neglect."
He urged the audience to make a firm commitment to nonviolent resistance.
"The haters and exploiters want counterdemonstrators to get suckered into practicing violence so they, too, can be demonized and discredited," he said. "The moment an individual commits violence, even for a good cause, that person's credibility is shredded. The quickest way to surrender your personal dignity and credibility is to engage in violence."
He said despite the Charlottesville tragedy, he was encouraged by the results of November's elections in Virginia in which voters, he said, rejected fear mongering and immigrant bashing, and upheld the spirit of tolerance, diversity, hope and healing.
"The rhetoric that Mr. Trump espouses is divisive," he said of the president, "but it also clearly gives people a perception of who he is.
"We need to appeal to his heart," he said. "If we can change and transform a George Wallace of Alabama, we certainly can work on the heart of President Trump."