John Marshall shows off its squad on the road
Fred Jeter | 1/13/2018, 11:27 a.m.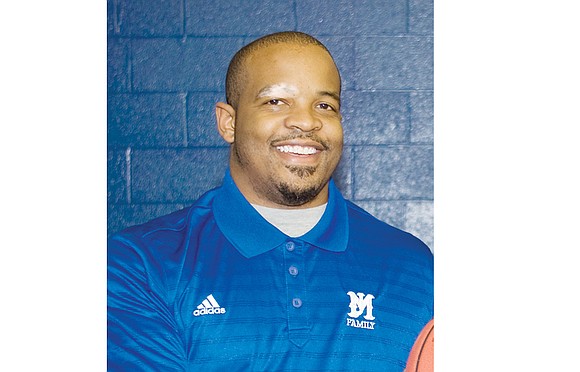 By Fred Jeter
For most high school basketball teams, a road trip means a quick bus ride across town or perhaps to a nearby county.
By contrast, the John Marshall High School Justices logged more December miles than just about everyone but Santa Claus.
Coach Ty White's squad ventured to three states, booked two round-trip flights and faced schools — many being powerhouses — from North Carolina, South Carolina, Georgia, New York and Florida.
"We wanted to be as battle-tested as possible," Coach White said of the ambitious journey. "We think we've got a good team and we wanted to be ready for our playoffs."
If you're driving a clunker, it's wise to putter along in the slow lane. But if you're fortunate enough to sit behind the wheel of a sleek Lamborghini, it's tempting to step hard on the pedal.
That was Coach White's December strategy — rev up the engine and see what he's got.
"These were stud teams we played, college scouts all over," Coach White said. Led by 6-foot-10 sophomore Isaiah Todd, the Justices hopscotched from Fayetteville, N.C., to Fort Myers, Fla., to Marietta, Ga., almost like an NBA outfit.
The Florida and Georgia events featured some of the premier teams from the Eastern Seaboard. The Justices' record in those two events was 1-5, but Coach White isn't complaining.
"Our record is unbelievably misleading," Coach White said of the top-tier competition. The Southern treks were about more than just rebounds and jump shots.
"It was a wonderful experience," Coach White said. "We went rock climbing, bowling, played laser tag, had pregame meals. We really gave the kids something to aspire to."
Coach White said the team paid for the events with fundraisers. Of course it helps that John Marshall's Todd is ranked by multiple sources as the nation's top prospect for the Class of 2020.
Todd, who moved from Baltimore to Richmond in eighth grade, is that rare megastar athlete event organizers believe can light up the box office. He is one of three starters returning from last season's 19-7 squad that lost to eventual 3A champ Northside High School of Roanoke in the state quarterfinals.
Also back for their third season in regular rotation are guards DeMarr McRae and Levar Allen, "The DeMarr and Levar Show."
Newcomers in an all underclassmen lineup include 6-foot-3 junior Jairus Ashlock, a transfer from Thomas Jefferson High School, and 6-foot sophomore Elijah Seward.
Then there is 6-foot-9 freshman Roosevelt Wheeler, 14, a transfer from Hampton who Coach White says "has a huge upside."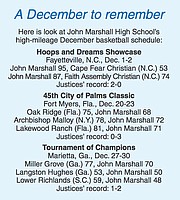 Upon returning to face traditional opponents, John Marshall High won at Armstrong High School 66-59 on Jan. 2, and at home against Henrico's Mills Godwin High School, 79-56, on Jan. 3.
There are more marquee games on the calendar.
The Justices will play Potomac High School of Dumfries and Maury High School of Norfolk, along with private school powerhouse Trinity Episcopal School on Feb. 3 at Trinity.
The Trinity game will pit Todd against the Titans' 6-foot-9 Armando Bacot, who is among the nation's highest regarded juniors.
And that's not all.
John Marshall High is trying to set up a game in Richmond against the Athlete Institute Basketball Academy of Ontario, Canada, in February. The Canadian squad features 6-foot-10 Matur Maker, the younger brother of the Milwaukee Bucks' Thon Maker.
Coach White is convinced he has a most special team, and he's all about showing it off.