Standing room only for John Marshall-Trinity showdown at the Ashe Center
2/9/2018, 8:08 p.m.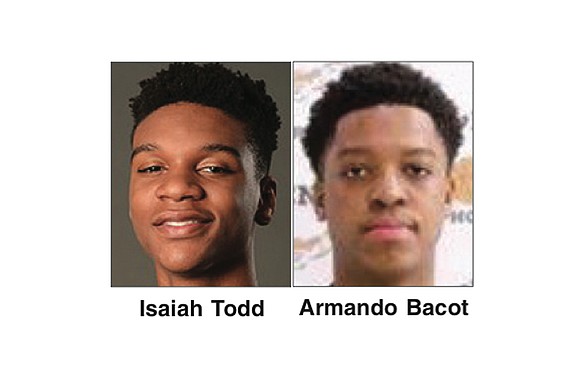 No. 1 versus No. 2.
Private versus public.
Isaiah versus Armando.
Those were the story lines for the Trinity Episcopal School versus John Marshall High School hoops showdown last Saturday at the Arthur Ashe Jr. Athletic Center in Richmond. 
Led by national celebrity Isaiah Todd, John Marshall High won 67-62, but the big winners were Richmond's high school fans who were treated to a rare attraction, and cancer research.
The event, promoted by AAU travel team Team Loaded, was a benefit for Coaches 4 The Cure and cancer research.
The matchup between Trinity, which was ranked first in the area prior to the game, and John Marshall, which was ranked second, was the nightcap of a six-game extravaganza.
According to John Marshall Athletic Director Lamont Davis, the paid attendance was 4,925, with tickets costing $10 per person. Ticket lines were long, but no one was complaining. This was "must see" basketball.
The 6-foot-10 Todd is among the nation's top-ranked recruits in the Class of 2020. And he didn't disappoint a standing-room-only audience.
Connecting five times from beyond the 3-point arc, the lithe, versatile Todd had 26 points, seven rebounds and three blocked shots.
For the season, Todd averages 20 points, eight rebounds and 2.3 blocked shots for the Justices' Coach Ty White.
His Trinity counterpart, 6-foot-10 Armando Bacot, who is among the top national prospects for the Class of 2019, settled for 16 points, nine rebounds and two blocked shots before fouling out in the fourth quarter.
Trinity, now with an 18-3 record, lost previously only to Florida powerhouse Montverde Academy and Blue Ridge School in Virginia.
John Marshall has won 11 of its past 12 games since a brutal November-December schedule against national powerhouses far from home.
Trinity, located in Richmond's South Side, is the defending State Independent Schools Division I champion, and seems primed to defend that title later this month.
John Marshall, the pride of the North Side, is as usual a threat for the VHSL Division 3 State title to be contested at Virginia Commonwealth University's Siegel Center.
Coach White's lineup isn't all about Todd. Junior guards DeMarr McRae (15.8 point average per game) and Levar Allen (10.3 point average per game) are third-year starters.
Six-foot sophomore Elijah Seward, a budding star, averages 9.9 points per game, and 6-foot-3 junior Jairus Ashlock, a transfer from Massaponax, 10.3 points per game.
Todd has help in the paint. Off the bench comes 6-foot-9 freshman and shot-blocking whiz Roosevelt Wheeler, averaging four points and four rebounds.
The Saturday night packed house stirs memories of yesteryear, when fewer college and pro basketball games were broadcast on television and area fans were more receptive to supporting high school hoops.
Famously, in 1975, Richmond's Maggie L. Walker and Thomas Jefferson high schools played before two sellouts of 10,000-plus fans at the Richmond Coliseum. Old-timers recall those games as Walker's Clyde Austin and Rudy Cunningham went up against TJ's Keith Valentine and Otis Fulton.
That was good as it gets. But that was then.
For now, and looking ahead, Isaiah versus Armando will definitely do.