Personality: Rev. Tyler C. Millner Sr.
Spotlight on the Virginia Union University Lifetime of Service Award winner
1/13/2018, 11:05 a.m.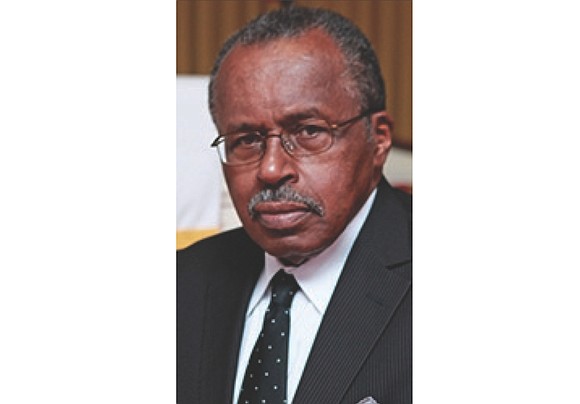 It is not enough to cite the dream if you are not going to live the dream. These are the words and belief of the Rev. Tyler C. Millner Sr., pastor of Morning Star Holy Church in Martinsville. He is the recipient of the Virginia Union University Lifetime of Service Award that will be presented Friday morning at the 40th Annual Community Leaders Breakfast honoring the legacy of Dr. Martin Luther King Jr.
Rev. Millner was a founder of the annual event that draws several hundred people from across the area each year. Known initially as Community Learning Week, Richmond's commemoration, now called Living the Dream, has become a national model for observing the King holiday.
"I feel so humbled because I have always turned the spotlight on someone else or some other program or projects," Rev. Millner says. "You don't work to win honors. You work to serve."
A gifted public speaker, fundraiser and community activist, Rev. Millner built upon the legacy of his mother, the Rev. Almeda F. Millner, the founder of Morning Star Holy Church, which she pastored for 39 years.
"After she preached it, she tried to live her word," he says. "That's what I try to do. My congregation knows if I said it, I'm going to try to do it. I'm not bluffing."
He is passionate about the ministry and outreach, caring about youths, especially black males, and church leadership development.
"I think if the church is going to be relevant in the future, it must mentor and minister to the needs of the black male," Rev. Millner says. "We have some challenges in that regard. I think being a good family man and a good provider has certainly been a positive influence on young men in my congregation."
In addition to Community Learning Week, he has developed several creative programs that advance the cause of social justice and cultural preservation. Among them is a citizen's awareness program, Blue Ribbon Campaign, organized as an education and outreach ministry in the Martinsville community.
The pastor believes that the King holiday is not a day off. It is a day to serve the community.
"Clearly Dr. King provides for us a unique moral pattern for both improving race relations and helping ourselves as a people and as a country," he says. "He gave value to all Americans, regardless of race, color, creed or sexual persuasion.
"He was a shining star of hope and possibility. He wants us to continue to beat the drum for freedom and sound the alarm and still be an expression of hope," he says. "Being hopeful is part of what leaders are required to be." Meet this week's Personality and social justice advocate, Rev. Tyler C. Millner Sr.:
Latest accomplishment: Recipient of the Virginia Union University Lifetime of Service Award.
Date and place of birth: July 27 in Martinsville.
Current home: Axton in Henry County.
Alma maters: Bachelor's degree, Johnson C. Smith University; master's of divinity, McCormick Theological Seminary; special studies, Harvard University and New York University.