Thousands turn out for Women's March RVA
1/26/2018, 1:29 p.m.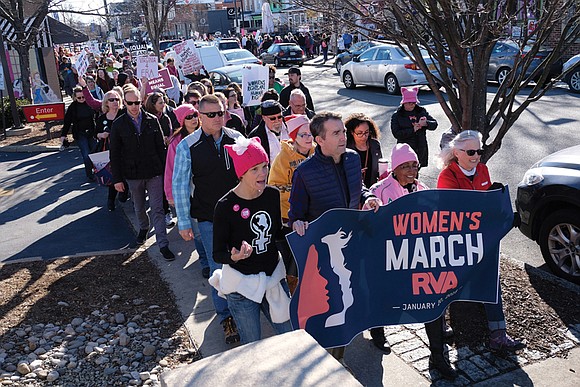 "We talked about girls can do anything that boys can do, and that girls should be making the same amount of decisions that boys make," Mr. Loewen said. "We're so excited about women's voices getting stronger, and we need them to be stronger."
Andrea Lancaster, president of the National Organization for Women's Richmond chapter who attended the march last year in Washington with a few board members, said she was pleasantly surprised by the Richmond turnout.
"It's exciting to see how much momentum the movement still has," she said.
NOW and other groups are urging the Virginia General Assembly to ratify the Equal Rights Amendment to the U.S. Constitution. The ERA would explicitly state that women have the same rights as men.
ERA supporters believe that if two more states ratify the amendment, it will be added to the Constitution. There is a legal debate about that because the deadline to ratify the ERA has passed.
According to Ms. Lancaster, Virginia has become a focus of ERA proponents because Democrats have gained power in the General Assembly. Last fall, the Democratic Party picked up 15 seats in the House of Delegates; however, Republicans still hold a 51-49 majority.
Ms. Lancaster said a constitutional amendment guaranteeing women equal rights is needed.
"If you ask a lot of people in the streets, they think we already have that," she said. "But we don't. There is no constitutionally protected equality."
CNS' Logan Bogert and Aya Driouche contributed to this report.