Poor People's Campaign vows to continue push to end poverty, racism, militarism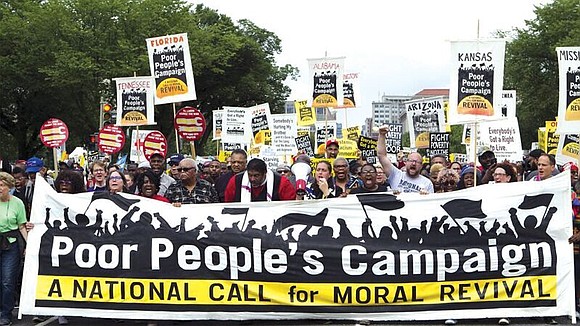 WASHINGTON
A multiracial, intergenerational crowd of thousands of social justice activists, union workers and people of faith prayed, cheered and listened intently last Saturday as speakers on the National Mall called for a re-energized approach to fighting poverty and other social ills they say are plaguing the country.
Organizers of the Poor People's Campaign urged those who had traveled from as far away as Alaska and Alabama to raise their hands in a show of commitment to educating voters in the days ahead.
The Rev. William J. Barber II, co-chair of the Poor People's Campaign: A National Call for Moral Revival, set a serious tone for the gathering and what he hopes will follow.
"The problem in Capitol Hill is they don't listen and so we're not going to model that," said Rev. Barber as he shushed the crowd assembled under occasionally rainy skies and asked for their attention. "This is not fellowship. This is revolution."
The campaign is an echo of the one organized 50 years ago by Dr. Martin Luther King Jr. that brought together a wide range of activists, including Jews and Christians, farm workers and Appalachian poverty volunteers.
Where Dr. King focused on the "three evils" of racism, poverty and militarism, the new version has added environmental justice.
Kicking off on Mother's Day with rallies in cities across the United States and ending with the gathering on the Mall, the campaign's 40 days was intended to energize a similar interfaith effort on a host of mostly liberal causes.
"By God we have," said the Rev. Liz Theoharis, Rev. Barber's co-chair and a Presbyterian Church USA minister, referring to the campaign's aim of rallying activists for voting rights, homeless advocacy, equitable education and improved wages. "Just over the past 40 days, over the past few months, we have come together. There are state coordinating committees in 40 states across this country building the Poor People's Campaign."
Rev. Barber, a Christian Church (Disciples of Christ) minister and former state president of the North Carolina NAACP known for his "Moral Mondays" rallies in North Carolina, said the campaign was nonpartisan. Speakers decried Trump administration policies — especially the recent separation of migrant families at the U.S. border — among the lists of problems in the country.
Civil rights veteran Jesse Jackson Sr., a leader of the original Poor People's Campaign, urged the granting of asylum for children and families that had been separated at the border and stressed the importance of Election Day.
"We have the power to take our nation back in November," said Rev. Jackson, as he asked the audience to repeat: "I can vote. I will vote. I must vote."
The Rev. Traci Blackmon, a member of the campaign's national steering committee and United Church of Christ justice leader, pointed to the Capitol as she advised people on how to continue organizing back home.
"We are not just here to march; we are here to mobilize," Rev. Blackmon said. "November is coming and you're either with us or you are evicted from the house. We are marching now to serve notice: They have just a little while to get on board or find somewhere else to live."