Poor People's Campaign vows to continue push to end poverty, racism, militarism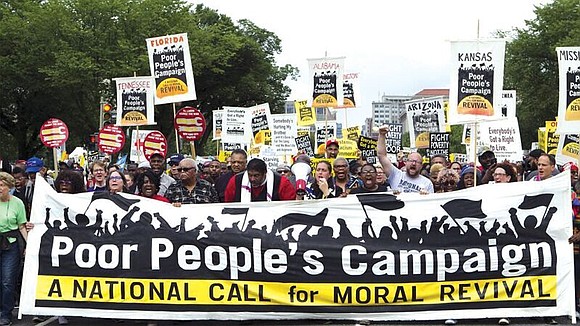 The marchers delivered letters to Congress in which Revs. Barber and Theoharis cite the tens of millions of poor people in the United States with limited food, housing and utilities and the passage of new voter restrictions in 23 states since 2010.
"This is the true hacking of our democracy, allowing people to win office who then deny health care, living wages, cut necessary social programs and push policies that promote mass incarceration, hurt immigrants and devastate our environment," they wrote. "These racist laws hurt not just people of color, but poor whites whose lives are upended by the politicians put in office by extremist voter suppression."
Three activists from Pennsylvania, two young white women and an older black woman, met during the recent weeks of state-level organizing.
Savannah Kinsey and Hope Koss of Johnstown, Pa., attend an Evangelical Lutheran Church in America congregation and have worked with Put People First PA!, seeking universal health care in their state, while Tree Muldrow's cause was the Coalition to Abolish Death by Incarceration.
"We all have similar needs and desires and we're learning that," said Ms. Muldrow, a "spiritual, God-believing" 66-year-old. "And we're bringing that back to our own people and we can show people how much we are connected. We all have the same needs. Poverty affects us all."
The Rev. Kelly Brown Douglas, dean of New York's Episcopal Divinity School and canon theologian of the Washington National Cathedral, said she expects churches to continue the movement's momentum.
"We're doing this not out of this notion of hate for what is, but motivated by the love of God for what can be," she said.
Rev. Barber, who spoke at the cathedral during the campaign, has visited locations across the country since May, including a "toxic tour" sponsored by the Illinois branch of the campaign that highlighted ecological devastation in poor neighborhoods in Chicago affected by manganese, a toxic metal that has been linked to lower IQ scores in children.
The Rev. Betty Landis, an interim minister at an ELCA congregation in Chicago, and her husband Darryl Jones, joined Rev. Barber's tour and other direct-action events in Illinois, including a protest against ecological devastation at the capital in Springfield where Rev. Landis was arrested. She has a court date in August.
"It was absolutely worth it," said Rev. Landis, one of more than 2,000 people who were arrested in 37 states over the 40-day campaign during activities that involved civil disobedience. "As of now, it is what I feel called to do."