Rodriguez 'bats' on nabbing Squirrels' title
7/6/2018, 4:46 p.m.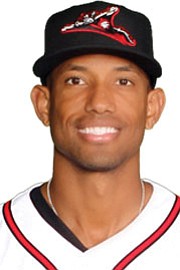 Luigi Rodriguez didn't wait for Independence Day to set off fireworks for the Richmond Flying Squirrels.
The 25-year-old outfielder with the piping-hot bat is one of five Squirrels selected for the July 11 Eastern League All-Star Game in Trenton, N.J.
Hitting left-handed for manager Willie Harris, he's heading to New Jersey with impeccable credentials.
But first he'll be invested in a five-game series with the invading Akron Rubber Ducks, that started yesterday, July 4, at a sold out Diamond. 
Through 62 games, the native of the Dominican Republic was hitting .344 (72-for-209) with five doubles, four triples, 10 home runs and 13 stolen bases.
Rodriguez is second in Eastern League average behind New Hampshire's Vladimir Guerrero Jr., with a stunning .407 in 53 games.
Guerrero is the son of the former big leaguer by the same name.
Rodriguez, obtained by the San Francisco organization in the offseason from the Cleveland chain, is bidding to become Richmond's second the Eastern League batting champ.
Matt Duffy (now with the Tampa Bay Rays) led the Eastern League in 2014 at .332.
Ralph Garr, as a member of the Richmond Braves in 1970, hit .386 to lead the International League. Garr, known as "The Roadrunner," went on to an illustrious big league career.
In 1994, Bobby Moore hit .366 for the R-Braves, but didn't have enough plate appearances to qualify for a title.
That's the catch.
To qualify for the lead, a player must average 2.7 plate appearances per number of games per team plays. So Rodriguez will need 378 chances to become the league batting king. He now has about 240 with two months left.
First and foremost, all minor league players wish to advance. The next stop on San Francisco's ladder is Sacramento of the AAA Pacific Coast League.