Community booster Linda D. Myrick dies
7/13/2018, 6:35 p.m. | Updated on 7/16/2018, 9:33 a.m.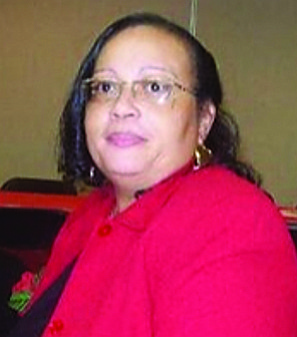 Linda Diane Myrick was a vibrant, determined woman who found joy in helping her family and others get the most out of life.
And that's how she wished to go out. So before her death, the 60-year-old Richmond area resident dreamed up a unique way for people to remember her.
Instead of a mournful funeral, Ms. Myrick directed her family to throw a community cookout — and that is just what they are preparing to do following her death on Friday, June 29, 2018, from cancer.
The cookout, at 5 p.m. Thursday, July 12, will be held in Chester at 4412 Centralia Road, the historic home of First Baptist Church of Centralia.
"No suits, no ties, just come and have an old-fashioned good time," said her son, Renard T. "Bridge" Diggs Jr. of Chester, a federal law enforcement officer and founding apostle of the Body of Christ in Fellowship where his mother was a shepherd.
"That's what she wanted," he said.
"This represents her," said her daughter, Dionna L. Diggs, a senior manager with Virginia Premier.
"She was always about making everyone happy," said Ms. Diggs.
A native of San Francisco and graduate of Thomas Dale High School in Chesterfield County, Ms. Myrick worked as a 7-Eleven store manager and was well known as a crew leader and manager of the Hardee's in the 4800 block of Jefferson Davis Highway. Customers found her welcoming and employees appreciated her willingness to look out for their well-being, though she never departed from the standards that the fast food operation demanded, Mr. Diggs said.

She may have been best known for her volunteer work at Huguenot High School, from which four of her five children graduated. Her youngest graduated from a Chesterfield high school after attending Huguenot.
"If you went to Huguenot between 1993 and 1997, you knew Renard and Dee Dee's mom. She was our PTA president, band booster all-star and just all around supportive parent to all students," said Amy Wentz, who has fond memories of Ms. Myrick. "She helped make my experience such a good one."

"She was everyone's mother," Mr. Diggs said. "She was at the school all the time. She looked out for us, but also for every other student" in her work for the PTA. That is reflected in the Facebook posts from former students since her death.
All of her children played musical instruments. Mr. Diggs became the Huguenot band's drum major and also played the tuba and saxophone. Ms. Diggs played saxophone in the band, as did a younger sister, LeAndra D. Chappelle, now of Fort Campbell, Ky.
Two younger daughters, Melynda Myrick and Maya Myrick, both of Chester, played in the school orchestra, with Melynda playing cello and bass and Maya playing violin.
The band became Ms. Myrick's passion. During the football season, "she was always in the stands dancing with others at halftime to the music we played," Mr. Diggs said.
She also was a leader with other parents in raising money for the band and coordinating the band's trips to competitions and parades in New Orleans, St. Louis, Canada and Florida, Ms. Wentz recalled. Ms. Myrick also marched alongside the band in the Christmas Parade and other community parades, Ms. Wentz said.