Mary Frances Rogers Barnes, 80, educator
12/2/2014, 6 a.m.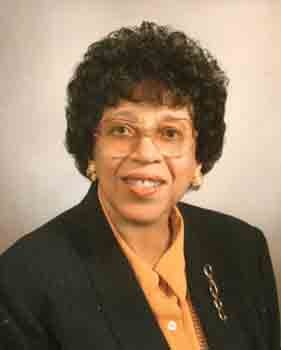 Mary Frances Rogers Barnes saw great potential in every child.
She believed every child should have the opportunity to learn and love education.
In her 30 years as an educator, Mrs. Barnes dedicated herself to seeing every child achieve in the classroom and beyond.
Her good work with young people was not confined to the classroom.
She also directed the children's choirs at Moore Street Missionary Baptist Church and later Ebenezer Baptist Church.
Mrs. Barnes passed along her can-do spirit to her only daughter, Melody C. Barnes, who served as director of the Domestic Policy Council in President Obama's first term. Ms. Barnes now runs a public policy consulting business in Washington, is vice provost at New York University and is chairwoman of an initiative at the Africa Foundation.
"My mother was just an amazing person," Ms. Barnes said. "She was really animated by this inner spark and joyfulness. She walked through life with a kindness and desire to help people that was unparalleled."
Mrs. Barnes is being remembered this week following her death Nov. 18, 2014, at her Richmond home. She was 80. Her life was celebrated Saturday, Nov. 22, at a homegoing service at Ebenezer Baptist Church.
Mrs. Barnes was born April 23, 1934, in South Boston.
She received her bachelor's degree from Livingstone College, where she also played sports and pledged the Alpha Xi chapter of Alpha Kappa Alpha Sorority.
After college, she moved to Lynchburg to teach in the public school system.
A few years later, she met her future husband, Charles H. Barnes Jr. They were married six months later and moved to Richmond, where Mrs. Barnes quickly built a reputation as an excellent teacher at Blackwell Elementary School.
She returned to school to earn a master's in education from Virginia Commonwealth University.
She then moved to Redd Elementary School, where she was a curriculum specialist.
After her retirement, she continued to support and train teachers in the city's public schools and taught at J. Sargeant Reynolds Community College.
Mrs. Barnes was active at Moore Street Baptist Church as a member of the Senior Choir, as a Sunday school teacher and as president of the Deaconess Board. In later years, she sang with the Sanctuary Choir and was on the New Members Committee at Ebenezer Baptist Church.
She also was active with her sorority and sang in the AKA Chorale.
Mrs. Barnes was active in the Bon Tons, Joy in Friendship, the Tuesday Night Group, as well as other clubs and civic organizations, including serving as president of the Jefferson-Huguenot-Wythe Band Boosters Club.
In addition to her husband of 54 years and her daughter, Mrs. Barnes is survived by a son-in-law, sister-in-law, brother-inlaw and a host of nieces, nephews, cousins and goddaughters.