New Fulton program helps youths develop skills for jobs, money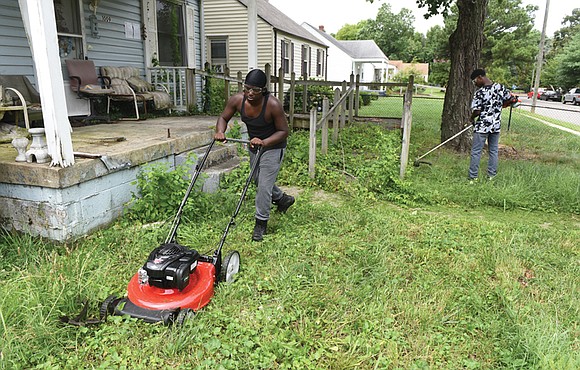 As a full-time city recreation specialist, Wyatt Kingston sees plenty of Richmond youths who need and want to make money to help their families.
So in his spare time, he has volunteered to do something about it.
The 67-year-old Richmond native has created a small lawn maintenance program for youths ages 12 to 18 from the Rainbow City public housing community in Fulton who are eager to work and need a helping hand to get started.
He has enrolled eight young people who have spent the past two weeks learning how to properly use mowers and weed whackers, as well as getting information on life skills in Mr. Kingston's 4-H Lawn Maintenance program.
Last weekend, participants practiced their skills and began marketing themselves by mowing, edging and tidying up an overgrown and untended lawn at a vacant house at 1009 Garber St. in Fulton.
This week, crew members are going out in teams of two to recruit customers. Mr. Kingston has produced fliers for the teams to distribute to advertise their services. He said he expects them to charge $20 to $30 a yard.
"All of the money they make from customers they recruit will be theirs," he said. "I just hope they can be successful in finding people to employ them so they make some additional income.
"If this summer program goes well, they won't have to stop when summer ends. They could do leaf raking in the fall and maybe some snow shoveling in the winter," said Mr. Kingston, who is donating his time to the job development effort.
Others have pitched in to help get the program underway.
For example, Nick Costas, an investment banker, bought work gloves and contributed the mowers and weed whackers. He admires Mr. Kingston's commitment to the city's youths and previously helped Mr. Kingston launch and operate the Richmond Angels, a girls lacrosse program that flourished for a few years but ended.
Another supporter is Montrell Brown, who grew up in Hillside Court and now has his own lawn care service, Brown's Lawn in Order. He provided the training.
Mr. Brown met Mr. Kingston at the now closed Boys and Girls Club in Hillside Court, where Mr. Kingston served as director. Three of the members under Mr. Kingston's tutelage went on to win state Youth of the Year honors.
As director, Mr. Kingston, started a gardening program for club members. Mr. Brown was "one of my kids who came up through that program," he said.
He said Mr. Brown and other club members would grow tomatoes and other vegetables and sell them at the 17th Street Farmers' Market.
"We had the only booth at the market that was staffed by kids," Mr. Kingston said. "They kept the money. Too often the money they brought home was the only money in the house."
As club director for five years, Mr. Kingston also created a volunteer program for members to cut grass for elderly and disabled people. The effort gained recognition, and City Council granted the program $30,000 to pay for equipment and provide stipends to the youths so they could increase their work.
Mr. Kingston said he decided to work with youths in Rainbow City because of his connection with the Fulton area.

He has long been associated with Gillies Creek Park in Fulton, where as a recreation specialist, he teaches disc golf and other sports. He also has helped the park's founder, Carl Otto, maintain it and eliminate weeds, brush and unwanted saplings that spring up each year. He also travels to other recreation centers to teach nontraditional sports such as archery and pickle ball.
Helping city youths become successful, particularly those from low-income families, is his passion.
"I love the kids. I grew up without a mother and father, and I can relate to them," said Mr. Kingston, who has been involved with the city Department of Parks, Recreation and Community Facilities or other youth-serving programs since the 1980s.
"I know they need money coming into the household. I am trying to teach these kids how to be winners and how to make the most out of life."