At 91, Carlton T. Brooks still going strong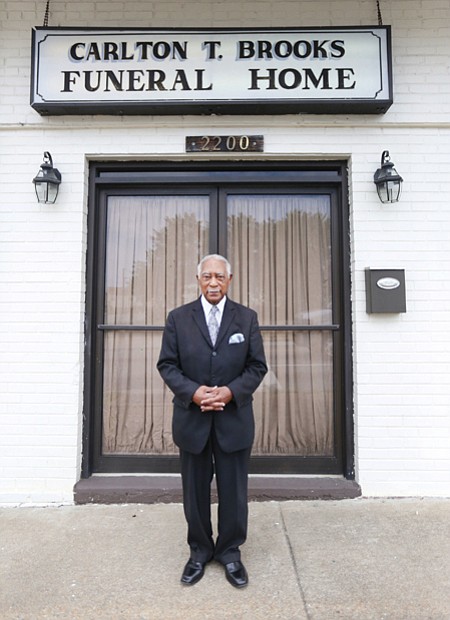 Carlton T. Brooks said as a young man he faced the big decision of figuring out how to make a living.
"I came from a good family which stressed education, and I knew I wanted to be a professional. I had three choices: Become a doctor, a lawyer or a funeral director," he recalled.
He said he crossed off doctor and lawyer because of the long years of study he would face after high school and chose undertaker.
Decades later, the 91-year-old Richmond native is still going strong. He has operated his own funeral home, Carlton T. Brooks Funeral Home, in South Side for 55 years and was earlier involved in another funeral home for seven years.
As best as can be determined, Mr. Brooks is perhaps the oldest mortician in the country and his 67 years in the field, including five years as a funeral home employee, also could be a record for longest active service. The National Association of Funeral Directors could not provide information on anyone older or serving longer than Mr. Brooks.
An internet search found only one listing for a 91-year-old funeral director, and that was the 2004 obituary for Otis Adams Sr. of Gadsden, Ala.
The Guinness Book of World Records does not have a listing for anyone who has been burying people longer than Mr. Brooks.
He comes to work every day, impeccably dressed in a suit and tie and prepared to serve grieving families. Accompanying him is his daughter, Carla Brooks, 57, who has been his full-time assistant for 39 years. He also has another daughter, Anita.
He has had his ups and downs in the business, but he has always found his choice worthwhile.
The best part, he said, is the service he provides to the living.
His main role is to be a caregiver to families who are coping with a loss. He handles one or two funerals and cremations a week on average, he said.
But he also has long served as a counselor to people in the community who just need a caring person to talk with.
"There are a lot of people who need someone they can trust to help them," he said. He has found it most fulfilling, he said, that he can provide a place where people feel comfortable coming to talk about serious matters.
He started his career after graduating from Maggie L. Walker High School and serving in the Marine Corps at the end of World War II.
Like many in Richmond, he went off to the now closed Eckels College of Mortuary Science in Philadelphia to learn the art and science of the funeral business, ranging from embalming to management. He returned to Richmond ambitious to start his own funeral home.
In 1951, he joined another young man, Oscar F. Howard, to open the Brooks-Howard Funeral Home at 2200 Hull St.
But competition was fierce, he said, from two more established funeral homes located a few blocks away and within seven years the partners closed the business.