City center vision
NH Foundation looks to new coliseum to spur major redevelopment in Downtown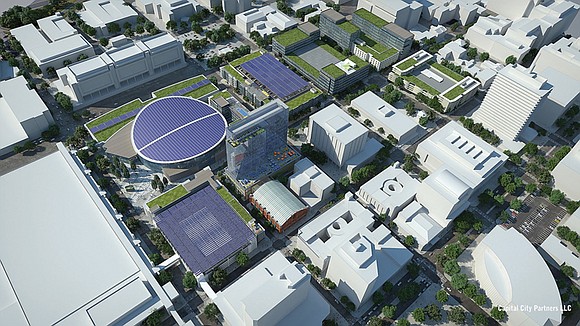 How do you build a $220 million coliseum for Richmond without putting up any money?
Simple. Use other people's money, including taxpayer contributions.
That, in essence, is the way that a private group led by Dominion Energy's top executive, Thomas F. "Tom" Farrell II, proposes to get the job done in laying out a vision of the new buildings and the thousands of jobs he contends will be created if City Hall and City Council give it the green light.
According to the NH Foundation that Mr. Farrell heads, the plan is to build a new 17,500-seat coliseum and then repay the $220 million debt over 30 years from the new city taxes to be generated by an array of projects that other people would build in the blocks near the coliseum.

So far, NH has not disclosed what deals, if any, have been lined up and with whom to build the other projects. Those other projects include a 527-room convention hotel that could cost $200 million, 2,500 to 2,800 new apartments that could cost $400 million to $600 million, a medical office complex that could cost $150 million to $300 million and new restaurants.
But the nonprofit NH Foundation will not be involved with any of those projects, according to foundation spokesman Grant Neely.
"Those involved will have take the risk and find their own financing," said Mr. Neely, who was chief of staff to former Mayor Dwight C. Jones and a current Dominion Energy communications staff employee who has been drafted to help NH in its campaign to win public backing.
While there might be additional projects to accompany the new coliseum development, at this point, NH's description of the overall development as a "once-in-a-generation opportunity" is more of a vision than a certainty.
At the center of the plan is a 10-block area of mostly underused city-owned property bounded by 5th and 10th streets between Leigh and Marshall streets.
Mr. Neely and another NH staff member visited the Free Press last week to provide more details on the project that is still being negotiated with the city and which Mayor Levar M. Stoney plans to send to City Council for approval in September.
Despite all the hype around the NH plan, and the potential $1.3 billion in development, it is unclear why NH is insisting on a new coliseum and why the city is buying into that idea.
The city could find people to undertake the hotel, the apartments and the other elements of the development and leave the Richmond Coliseum as is, which would allow the new taxes to go into the general fund rather than to pay debt on a new, expensive coliseum.
What is clear is that to NH, the replacement of the Richmond Coliseum is the top priority. According to Mr. Neely, NH would operate and maintain the new arena so that the city would no longer have that responsibility. He said NH is confident of being able to generate enough money to cover upkeep through admissions, skybox rentals and other revenue generators like parking and concessions.