Dr. William E. 'Bill' Ward, former mayor of Chesapeake, NSU professor dies at 84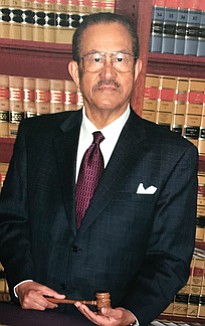 CHESAPEAKE
Dr. William E. "Bill" Ward, the first African-American mayor of Chesapeake and the only official to serve the longest in that role, has died. He was 84.
Dr. Ward, who was a longtime history professor at Norfolk State University, died Tuesday, July 10, 2018. He had been in the hospital, Chesapeake Mayor Rick West said.
Dr. Ward was elected to the Chesapeake City Council in 1978 and appointed mayor in 1990. He was re-elected three times, serving 14 years until 2004, making him the city's longest-serving mayor. Many considered his political ascendancy rare for an African-American Democrat in a majority Republican city.
Dr. Ward presided over a period of explosive growth in what is now the state's third largest city with about 240,000 people. Under his leadership, the city drew major development projects and international companies, including Volvo and Panasonic.
Warren Harris, the city's former economic development director, said Dr. Ward envisioned Chesapeake as a major economic development powerhouse. Under Dr. Ward, Chesapeake "transformed from being a suburban, residential city to ... being an economic engine for Hampton Roads," he said.
Dr. Ward mentored young African-American leaders and spent roughly 30 years on the NSU faculty, including as chairman of the Department of History and president of the Faculty Senate. He also served as the university's legislative liaison in Richmond.
Born on a farm in Lunenberg County and raised in Keysville, a town in Charlotte County, Dr. Ward earned his bachelor's and master's degrees from Virginia State University and a master's and doctorate from Clark University in Massachusetts. He did additional studies at Hampton University; Carnegie Mellon University; The University of the West Indies, in Kingston, Jamaica; and the University of Ghana in West Africa.
He and his wife, Rose, moved to Chesapeake in 1963.
He "was the kind of mayor — regardless of what party you are in or political beliefs — you wanted to rally behind him, so he got a lot done," Mayor West said.
Dr. Ward was a loyal member of Kappa Alpha Psi Fraternity and a longtime member of Sigma Pi Phi Fraternity's Beta Lambda Boulé.
A public funeral was held Saturday, July 14, at the Chesapeake Conference Center, followed on Monday, July 16, by a private family service.
In addition to his wife, Dr. Ward is survived by a son, Michael Ward; a daughter, Michelle Woodhouse, and a granddaughter, Skylar Rose.