Personality: David Mickens
Spotlight on president of local chapter of Buffalo Soldiers Motorcycle Club
6/29/2018, 4:40 p.m.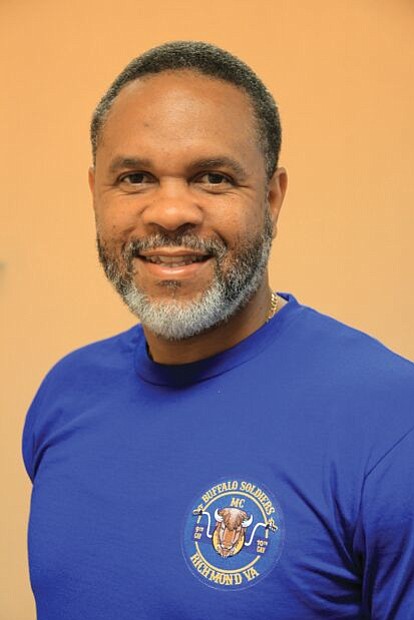 "We do a lot of riding, not just in town, but a lot of out of state traveling, which requires time, hotel expenses, food and a lot of other things," Mr. Mickens says. "We have ridden across country and some members have gone as far as Florida, Montana and California. We travel all over."
As president, he has been excited and energized in the role. Their next partnership project is a golf tournament on Sept. 6, 2018, with the Carol Adams Foundation, which provides emergency assistance to women, men and children who are victims of domestic violence.

"We are just a bunch of good guys that want to support good causes like Connect our Kids and the Carol Adams Foundation," Richmond's Buffalo Soldiers Motorcycle Club president says.
Meet this week's Personality and a motorcycle man on a mission, David Mickens:
Occupation: Sales consultant at Lexus of Richmond.
What I do: I find well-deserving homes for much-wanted vehicles.
No. 1 volunteer position: President, Buffalo Soldiers Motorcycle Club-Richmond Virginia Chapter. 
Date and place of birth: I was born on March 5, 1968, right here in the beautiful city of Richmond, Va.
Current residence: I currently reside in Henrico County.
Education: Graduate of Henrico High School and some college at J. Sargeant Reynolds and VCU.
Family: Son, David Mickens Jr., 26, and a daughter, Bryana Mickens, 24.
When elected and length of term:  I was elected in October 2017 to a two-year term.
How club got its name:  Most of the group at the time were previously in the military and wanted to ride with a cause. They decided to go with the Buffalo Soldiers name.
Number of members: We currently have 10 members, and growing.
Profile of members: Most of our members are 40 plus.  Most are retired.  We are currently in search of more members that meet the qualifications.
Why the emphasis on The Buffalo Soldiers: The Buffalo Soldiers' history is an awesome one.  It portrays African Americans' willingness to serve this great country at the same time they were being suppressed.
Why I'm excited about this organization: It's exciting to be a part of a organization that allows you to do what you love, which is to ride motorcycles and to be visible in the community where we live and that we love.  Veterans at the VA hospital love to see us come with lots of bikes, and kids in the community love to see this as well.
How I became interested in motorcycles:  I've always been fascinated with motorcycles since early childhood. I borrowed some of my older friends' motorcycles and eventually got one myself. When I got married in my early 20s, had a son then a daughter, my riding days ended. Then in 2004, I went to a friend's house. He had this motorcycle in his garage and encouraged me to take it for a spin. I did. Monday morning, I was in the local Honda store buying one off the showroom floor.
When I ride: I try to ride as much as possible.  I enjoy going out on a Sunday for a long ride to get breakfast or lunch.