U.Va. makes NCAA history it would like to rewrite
Fred Jeter | 3/23/2018, 9:45 a.m.
The University of Virginia basketball team seemed ticketed for a magic carpet ride to the NCAA Final Four in San Antonio, Texas.
Instead, the team's season crashed and burned at the Spectrum Center in Charlotte, N.C., last Friday in its opening round game against the University of Maryland-Baltimore County.
It was a head-spinning upset. Historically, it marked the first time in 136 years that a No. 1 seed school was beaten by a No. 16 seed team.
The historic win spawned a lot of new monikers for UMBC, including "U Must Be Cinderella."
The long shot Retrievers cracked the combination to Virginia's prized defense and won with ease, 74-54, ending the Cavaliers' season at 31-3.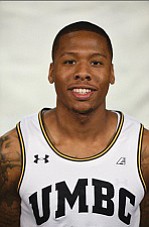 U.Va. hadn't allowed as much as 70 points all season while facing fellow Atlantic Coast Conference teams with multiple NBA prospects. The Cavaliers entered the NCAA Tournament not only seeded No. 1 in the South Region, but also No. 1 overall among the field of 68 teams.
"We'll remember this. It will sting," U.Va. Coach Tony Bennett said after the deflating loss. "Maybe a No. 1 seed will get beat again, maybe not. Maybe we'll be the only No. 1 seed to ever lose. It's life. It goes on."
While U.Va hails from the powerful ACC, UMBC represents the modest American East Conference.
UMBC's backcourt of 5-foot-8, 139-pound K.J. Maura of Puerto Rico and 6-foot-2 Jairus Lyles, a transfer from Virginia Commonwealth University, was too quick and too savvy for U.Va. on this rare night.
Looking like an All-American, Lyles had 28 points on 9-of-11 from the field, 3-for-4 from the distance and 7-of-9 at the foul line versus one of the best defenses in college history.
Coincidentally, Lyles' parents, Carol Motley and Lester Lyles, are U.Va. alumni. Lester Lyles was a star defensive back in football for U.Va. and went on to play in the NFL.
For the Cavaliers, it was like an invisible hand at the rim was slapping their shots away. This was especially apparent from long distance. UMBC was 12-for-24 from behind the arc, while the Cavs were a meager 4-for-22.
According to the betting line, U.Va.'s loss was second only to 15th seed Norfolk State University's 86-84 win over No. 2 University of Missouri in the 2012 NCAA Tournament. Norfolk State was a 21.5-point underdog, while UMBC was a 20.5-point underdog.
The Virginia loss marked the career end for two talented senior starters, Devon Hall and Isaiah Wilkins. All other players are slated to return next season to the ACC championship team.
Wilkins, arguably the best defender on the nation's best defensive team, got some unwanted publicity earlier last week.
For decades, there has been talk — some serious and some in jest — of the "Sports Illustrated Jinx." For whatever reason, players and/or teams on the Sports Illustrated cover seem to encounter head winds following publication.
Well, the magazine's NCAA Tournament edition featured on its cover none other than Wilkins flexing his muscles.