Heating repairs still needed on 104 public housing units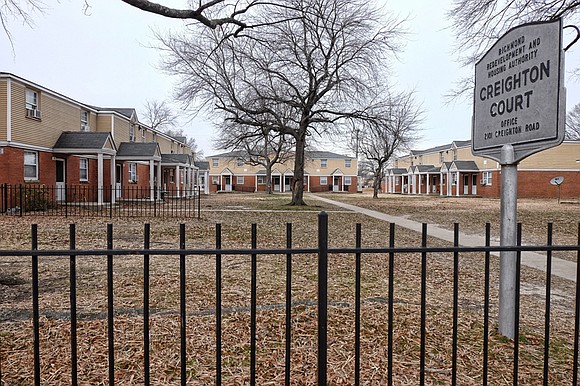 Heat has been restored to more than 300 public housing units, but work still needs to be completed in more than 100 other units.
That was the summation Orlando Artze, interim chief executive officer of the Richmond Redevelopment and Housing Authority, offered Monday night to members of the RRHA Board of Commissioners.
Mr. Artze said as of Monday, new electric baseboard heat has been installed in 73 units at Creighton Court, where tenant struggles to remain warm amid winter's cold drew the most public attention.

Installation in all 78 units where radiators had failed or had to be shut off because of water leaks will be completed by Friday, March 30, he said.
That meets the schedule Mr. Artze set when he announced the decision to replace the failing radiator systems with baseboard units. The change required new wiring to be installed in each of the units.
He said that it had been a complex operation in which nine families a week were temporarily relocated. He praised the staff and contractors for accomplishing the hard work with the least disruption possible.
"It has not been easy," Mr. Artze said.
Separately, RRHA's workforce completed repairs or improvements in 229 other units that had only partial heat, Mr. Artze said. That represented a big portion of the 333 units outside Creighton Court that had heating problems.
That leaves 104 units that need more substantial repairs.
"Our goal is still to complete those units by mid-April," Mr. Artze said.
At the same time, a board committee has been working to revamp RRHA's system for reporting and documenting problems.
Under the plan being developed, tenants would call (804) 780-8700 between 7:30 a.m. and 4:30 p.m., and a separate phone line, (804) 780-4100, after hours to report emergencies.

Staff would be required to maintain a log of the calls and input information online to trigger work orders and decisions on scheduling. After-hours staff would either deal with emergencies or bring in a contractor to begin repairs.
Despite all the changes and the work, board Chairman Robert J. Adams said the continuing problems show the difficulties RRHA is facing to maintain the aging public housing communities.
He pointed to the recent failure of a boiler and the collapse of a staircase as examples of the impact of deferred maintenance.
Mr. Adams said that within the next two months, he expects to schedule a board meeting to review conditions and to consider the options that RRHA might have for improving the properties going forward.
He said the meeting would enable board members to get a full briefing on the options and make decisions.
"This needs to be more than an information session," he said.
In recent years, the board has set a strategy for replacing the pubic housing communities with mixed-income communities, but the pace of change has been slow. Currently, RRHA is working on getting started on replacing Creighton Court and has yet to make a start on the replacement of the city's five other large public housing communities.