Loyola Ramblers like 'The Little Engine that Could' in NCAA Final Four
3/30/2018, 11:52 a.m.
This year's NCAA Final Four could be billed "Three powerful locomotives and The Little Engine that Could."
Kansas, Villanova and Michigan are Final Four regulars, while Loyola University -Chicago seems misplaced, like it has arrived at this idyllic destination by accident after somehow taking a fortunate wrong train on the "L."
Kansas, Villanova and Michigan feature big-time recruits, many of whom figure to soon cash in on NBA stardom.
Meanwhile, the face of the Loyola's Ramblers might be its 98-year-old chaplain, sweetheart and goodwill ambassador, Sister Jean Delores Schmidt, the nun who has become a magnet for TV cameras.
It has been an uphill climb, for sure, for these underdogs from the Windy City.
You could almost hear the 11th-seeded Ramblers repeating, "I think I can, I think I can" en route to upsetting Miami, Tennessee, Nevada and Kansas State.
Along the way, the lovable Chicagoans have captured hearts and busted brackets — even Sister Jean's — from Lake Superior to distant points in all directions. Even Sister Jean had the Ramblers losing in the Sweet 16.
Kansas and Villanova (their region's top seeds) and Michigan (No. 3) arrived amid the southern Texas cactus in convincing fashion, living up to their lofty seeding.
Loyola's emergence comes at an ideal juncture for a wonderful sport that has been smudged with corruption.
In late February, the FBI released an upsetting report implicating 20 noted schools with serious charges, including cash payments and advances to players, illicit entertainment and all forms of recruiting violations.
Last year's champ, the University of North Carolina at Chapel Hill, while unpunished by the NCAA, admitted offering bogus classes to athletes.
By contrast, the Ramblers seem as pure as a toddler's first Big Wheel.
That doesn't mean they can't run over you, though.
Remember the Alamo: The NCAA is returning to the scene of the 2011 Final Four where two upstarts — Butler and Virginia Commonwealth University — met in the semifinals. VCU in 2011, George Mason in 2006 and Louisiana State University in 1986 join Loyola as the lone 11th seeds getting this far.
So close, so far: Michigan is in the Final Four while VCU has missed the Big Dance for first time in eight years. However, on Nov. 22 in Maui, Hawaii, VCU led the Wolverines 60-57 with 1:59 to play. Michigan rallied to prevail 68-60.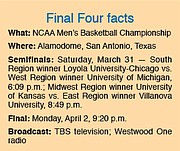 VCU-Loyola: The Rams and the Ramblers have one common player, the late Charles Chambliss. From New York City, Chambliss played with Loyola in 1965-66 and for VCU in 1969-70. 
Conference heavyweights: Michigan (Big 10), Villanova (Big East) and Kansas (Big 12) represent hoops royalty. Meanwhile, the Missouri Valley Conference (depleted by losses of Wichita and Creighton) has just one NCAA title — that claimed by Loyola in 1963.  
Hail Mary: Should Loyola and Villanova meet Monday, it would mark the first all Catholic final since Villanova defeated Georgetown for the title in 1984.
Former Catholic school champions are Holy Cross in 1947, LaSalle (1954), San Francisco (1955-1956), Loyola (1963), Marquette (1977), Georgetown (1984) and Villanova (2016).
Gonzaga, a Catholic school in Seattle, lost to UNC in last year's NCAA final in Glendale, Ariz.
Local connection: While there are no area players in San Antonio, Michigan coach John Beilein is familiar to Richmonders, having coached the University of Richmond Spiders from 1997 to 2001, posting a 100-53 record.
ACC-you later: The Atlantic Coast Conference received a whopping nine bids to The Big Dance. With Duke's defeat, all will be sitting this one out in San Antonio.
Burger and fries: The nation's top high school players congregate each spring for the annual McDonald's All-American Game. Only players headed to traditional powerhouses typically play in this showcase.
This year, Kansas has three signees invited; Villanova, two; and regional finalist Duke, four. Loyola, as usual, has none.
"We don't get McDonald's All-Americans," Loyola Coach Porter Moser told the media in Atlanta. "But our guys eat at McDonald's."