Personality: Christopher J. Woody Sr.
Spotlight on founder of The Woody Foundation
5/4/2018, 8:13 a.m.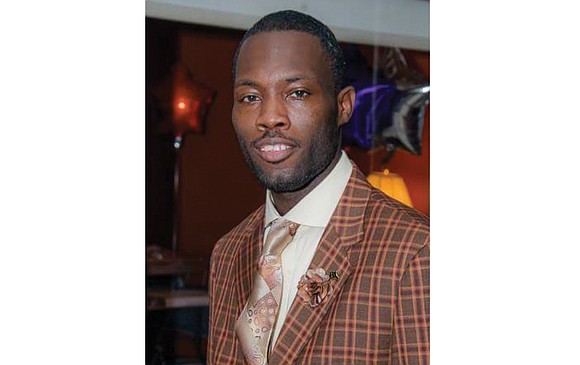 Christopher J. Woody Sr. is a very happy man with an enormous giving heart.
He is the founder of The Woody Foundation, a nonprofit organization started in 2008 to improve the quality of life for inner city youths through partnerships with other organizations.
The foundation provides resources to children and families living in low-income environments and assisting them as they strive to reach their fullest potential.
Mr. Woody, 33, started the foundation after a co-worker at his former job at the South Side Richmond Boys & Girls Club on Bainbridge Street told him,"Why don't you incorporate your dancing and start a nonprofit to help other children in the community?"
Mr. Woody's journey of giving started when he was growing up in South Side at 30th and Decatur streets. "My mom, Deborah Oliver, is a humble virtuous woman, a woman after God's own heart. During my 33 years on this Earth, I have never seen my mother tell anyone no," he says.
"I got the spirit of giving from seeing her giving all the time — seeing her give to people who were less fortunate than my family, people who were in need."
In addition to his job at Chippenham Hospital making sure nurses and patients have adequate supplies, Mr. Woody is a professional dancer and has opened for many entertainers that have come to Richmond, including Al Green, Lyfe Jennings and UniverSoul Circus.
He enjoys break dancing, hip-hop, square dancing and line dancing — especially with his favorite DJs Mr. G and Camille.
"My dancing and my foundation are targeted to the city's youths. When you look at the city, there are few opportunities or outlets for the children," he says. "I started off in 2008 by doing a candy drive for the Boys & Girls Club."
From there, Mr. Woody teamed up with the Richmond Redevelopment and Housing Authority donating Thanksgiving turkeys to senior residents. That was followed by working with the Marines' Toys for Tots collection during the Christmas season and contributing to "The Spirit of Giving" started by his church, Crusade for Christ Christian Church Ministries.
From there, the foundation took off, he notes. He contacts potential sponsors to support his projects, but most of the time, the money comes out of his pocket, he says.
His foundation's latest project is centered on cancer treatment and cancer survivors.
"Most people focus on breast cancer. They really push all of the rest of the cancers aside," says Mr. Woody who donated a kidney to his 13-year-old cousin in 2013.
The idea to help cancer survivors hit him last year when he met a 3-year-old with cancer. He supplied her entire Christmas.
"So I said I was going to do an event that brings all of the cancers together and let the survivors and their friends and supporters celebrate life," Mr. Woody says.
"Survivors of the Colors Cancer Awareness Affair: A Celebration of Life" is scheduled for June 2 at the Military Retirees Club on Chamberlayne Avenue.
In October, he plans to present his third annual fundraiser "All Black with a Splash of Color."