Personality: Pam Mines
Spotlight on founder of nonprofit JP JumPers Foundation
12/29/2017, 12:44 p.m.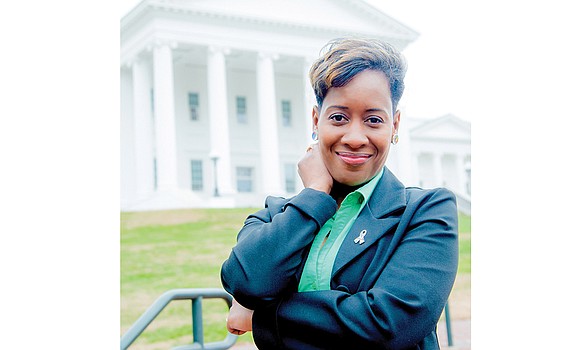 Helping people in the special needs community is a labor of love for Pam Mines. "I am not the advocacy voice for the special needs community. I am simply a voice," says the Chesterfield County resident.
Mrs. Mines is the founder and president of the JP JumPers Foundation, a nonprofit organization dedicated to supporting families dealing with special needs through education, financial assistance, public awareness and advocacy.
Mrs. Mines started the foundation in 2013. It is named for her 13-year-old son, J.P., who is autistic and has attention deficit hyperactivity disorder. He was diagnosed with autism at age 2. "I became proactive once I realized J.P. was delayed," says Mrs. Mines, who has a background in early childhood education and development.
The Mineses also have a daughter, Michelle, 15 and an adopted godniece, Sydnee, 15, who has neurofibromatosis, a genetic disorder that causes tumors to form along the nervous system. She also has ADHD and is blind in her left eye.
The family began by organizing teams for local autism walks to raise money and awareness. But the teams grew over the years from seven to more than 200 walkers, Mrs. Mines says. "At that point, I figured it was time to turn the walk team into something bigger that impacted more individuals affected by special needs, not just autism." That's when the JP JumPers Foundation was started, and its reach and impact have grown.
Because of the efforts of Mrs. Mines and the foundation, Virginia adopted what's called "JP's Law" in 2014 that was approved by the General Assembly and signed by Gov. Terry McAuliffe. Under the law, individuals can voluntarily ask that a code be added to their Virginia driver's license or Department of Motor Vehicles ID card noting they have autism spectrum disorder or an intellectual disability.
"It helps law enforcement officers to be more aware of an individual's diagnosis so they can better respond to a person's unique abilities and limitations," Mrs. Mines says. "This is not a pass for those with special needs. This just lets the officer know that the individual's response may be different from most." Mrs. Mines and the foundation are working to get a similar law passed nationally.
The foundation also sponsors the Wandering Project, in which if pays for a year for tracking devices through Project Lifesaver for families who have a loved one who may wander because of autism, Alzheimer's disease or some other form of dementia, or Down's syndrome or other special needs.
"JP JumPers Foundation is different from other nonprofits. We want to have a tangible impact," Mrs. Mines says. "We recognize that if you have a child with special needs, it adds a financial burden no matter what your profession. Our goal is to help alleviate that burden."
For example, she notes, "If your child has dietary issues and parents can only buy food from Whole Foods Market because this is the only thing your child can eat, get with us. We can get you a gift card to cut down on the cost." Mrs. Mines says the foundation wants to help parents understand that having a special needs child is "an appointment by God."