Labor of love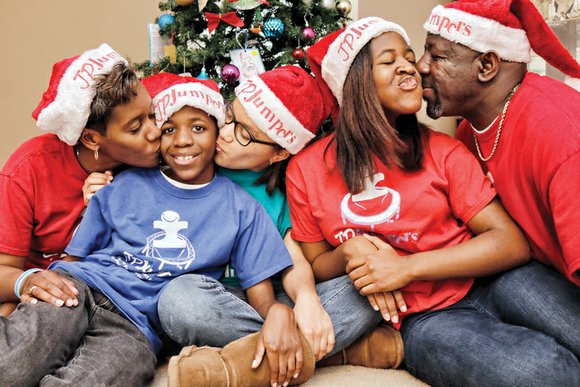 Helping those in the special needs community is a way of life for the Mines family of Chesterfield County.
Through advocacy efforts and by organizing programs designed to showcase the talents of those in the special needs community, the Mines family seeks to improve the quality of life for people with mental and physical disabilities and other special challenges.
It's a labor of love for the tight-knit family of five that has two children with special needs.
The mother, Pam, is founder and executive director of the nonprofit JP JumPers Foundation that she named after her 11-year-old son, J.P. who is autistic and has attention deficit hyperactivity disorder (ADHD). The Chesterfield-based organization seeks to "positively impact families affected by autism, special needs and unique circumstances," according to its website.
Mrs. Mines was honored for her advocacy for the disabled and for her work to get a bill passed by the General Assembly two years ago known as "J.P.'s Law," after her son, that would allow DMV Virginia to add a code to driver's licenses and other IDs to help law enforcement officers be aware of an individual's diagnosis.
She and her husband, Perry, also care for their adopted 13-year-old godniece, Sydnee, who has neurofibromatosis, a genetic disorder of the nervous system, as well as ADHD and is blind in her left eye. They adopted the honor roll student in 2010, after her mother died from complications related to neurofibromatosis.
The Mines' 13-year-old daughter, Michelle, is typically developed with no special needs.
Mr. Mines fuels his desire to help others by mentoring at-risk youths through his company, Luv'em Like Mines Youth Services in Chesterfield County.
Next up for the Mines and others in the special needs community is the Third Annual Christmas Special Needs Worship Service at 3 p.m. Sunday, Dec. 20, at Huguenot High School on South Side.
There, in an array of performances sure to evoke tears and cheers from audience members, children and adults with special needs ranging from autism and cerebral palsy to Down's Syndrome and intellectual disabilities will sing, dance, display art, play the piano and guitar and even preach a word from the Lord.
Mrs. Mines said she and her family pour their hearts and souls into the effort "because we want to celebrate an often overlooked community. We don't think it's a punishment, an accident or a curse to be affected or have a loved one affected by special needs.
"We consider it a true appointment by God and we take it seriously. The bottom line is I'm so glad God chose me to be inspired by a child with autism."
She said the faith-based service is designed to be welcoming to all performers and includes a wide array of acts for the audience to enjoy.
"It's all inclusive," Mrs. Mines said. "You can mess up, you can miss the words or you don't have to know the words at all. The audience will know what you're doing and everybody gets a standing ovation."