Personality: Christopher J. Woody Sr.
Spotlight on founder of The Woody Foundation
5/4/2018, 8:13 a.m.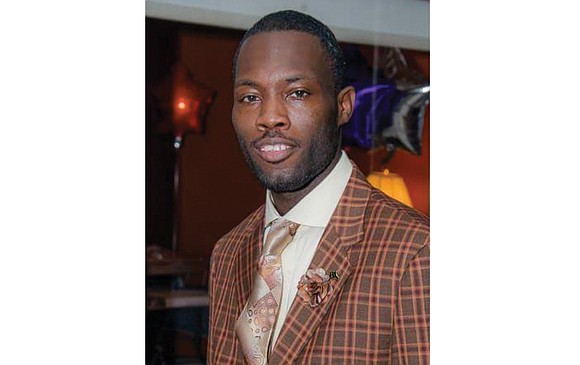 The foundation's quiet generosity is rewarding, he says, when people come up to him and let him know how the foundation has helped their lives.
"In 2017, I went skating because I love to rollerskate," Mr. Woody recalls. "A woman walked up to me and said, 'Hey, I have to thank you.'
"I said, 'Thank me?'
"And then the woman said, 'You helped me when I really needed help at Christmas time. You let me come to your home and let my daughter pick out anything that she wanted for Christmas when we really didn't have it.' "
Mayor Levar M. Stoney presented him with a proclamation in 2017 acknowledging The Woody Foundation's "Spirit of Giving" project.
The Woody Foundation reflects the attitude and perspective of its founder.
"I am always happy. I love to be humble and grateful," Mr. Woody says. "There is someone out here going through something that's more serious than what you are going though. I work in a hospital and I see it every day.
"Why complain when I am not lying in a hospital. No one has to give me a bath. No one is feeding me and I am breathing with the help of God. I have to be grateful. I can't complain.
"When people ask me how I am doing, I say I am doing wonderful."
Meet this week's Personality and giving spirit, Christopher J. Woody Sr.:
Occupation: Supply chain tech for Chippenham Hospital.
Community involvement: Founder, The Woody Foundation.
Date and place of birth: Jan. 6 in Richmond.
Current: Richmond's South Side.
Education: George Wythe High School Class of 2003.
Family: Mom, Deborah Oliver; two adopted sisters, Catherine Cobbs and Le'Andra Oliver; and son, Christopher James Woody Jr.
Reason for founding The Woody Foundation: I wanted to be a great role model to the youths of the city as well as my son.
Foremost mission: The Woody Foundation's mission is to improve the quality of life for inner city youths in the Richmond area by identifying approaches that work, strengthen their impact and expand their reach so that more young people may benefit.
Why I am excited about this organization: It gives me great joy and satisfaction knowing that I can provide services to someone less fortunate.
Services The Woody Foundation provides: Back-to-school events, food drives and partnering with his church for "The Spirit of Giving" at Christmas helping 500 families.
Upcoming event: Survivors of the Colors Cancer Awareness Affair, called "A Celebration of Life," on June 2.
How to become a volunteer: Call me at (804) 549-9098 or email thewoodyfoundation@gmail.com
What motivated me to get involved in community service: Knowing that I was a match to donate my kidney to a child and being a donor in 2013.
How I start the day: By thanking God I am awake and can get out the bed on my own. Also reminding myself what Denis Waitley says: "Happiness cannot be traveled to, owned, earned or worn. It is a spiritual experience of living every minute with love, grace and gratitude. I also think of the quote by Charles Swindoll: "Life is 10 percent what happens to you and 90 percent how you react to it."
Perfect day for me is: Making the people that come in contact with me happy and also putting a smile on people's faces.
If I had more time, I would: Travel to other countries and do voluntary and missionary assignments.
A quote that I am inspired by: Make sure that your audio matches your video.
Best late-night snack: Ice cream.
Best thing my parents ever taught me: To love people not because of but in spite of. Person who influenced me the most: My mother.
The book that influenced me the most: Robert's Rules of Order.
What I'm reading now: "As You Think As You Become!" by Birister Sharma.
The one thing that I've learned in life is: To be grateful over the small things in life.
My next goal: To open up a multicultural music and arts center in Richmond for our youth.