Richmonders offer names to replace J.E.B. Stuart Elementary
5/19/2018, 1:25 p.m.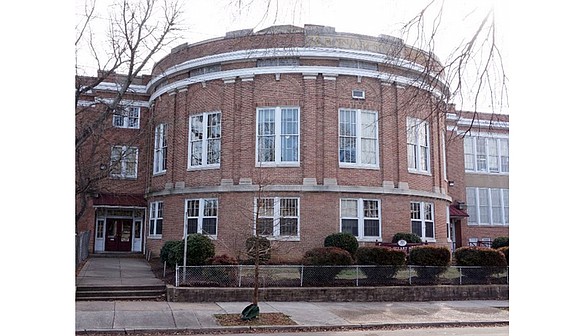 By Ronald E. Carrington
Barack Obama. Henry L. Marsh III. Spottswood W. Robinson III. Mary Elizabeth Bowser and Elizabeth Van Lew. Arthur Ashe Jr.
Those are just a few of the names suggested at a public meeting last week for the renaming of Richmond's J.E.B. Stuart Elementary School.
The school, opened in 1922 at 3101 Fendall Ave. in North Side, is named after a Confederate cavalry leader and slave holder. A majority of the 20 people at the May 9 meeting held in the school's gymnasium spoke in support of renaming the school. Their suggestions for a new name ranged from the former U.S. president to prominent and unsung figures from the past.
"Children should have a positive look on the school building that they are going to," said Rhonda Dickerson, a former student at J.E.B. Stuart Elementary who wants the name changed.
The hearing was the first in a series before the School Board is scheduled to vote on the name change at its meeting on Monday, June 18.
At least two speakers suggested the school be named Brookland Park, Fendall Elementary or North Side Elementary to strengthen the sense of neighborhood and community pride.
Only one speaker, also a former student at the school, spoke in opposition. He said his concern is for the mind and body of students.
"If a name change could change the conditions of the school and the students, I would be all for it," he told the Principal Jennifer K. Moore and six members of the renaming committee.
Also attending the meeting were Superintendent Jason Kamras, School Board Chair Dawn Page and board member Kenya Gibson, who represents the 3rd District where the school is located.
Here are the suggestions from the meeting:
Albert V. Norrell: A former slave who taught in Richmond for 66 years. The North Side school named for him is now used as an administration building, while the Norrell Annex has closed.
Elizabeth Van Lew: An abolitionist, philanthropist and spy for the Union during the Civil War who smuggled Northern prisoners out of Libby Prison in Richmond and freed her slaves.
Mary Elizabeth Bowser: A former slave noted for being a spy in the Confederate White House in Richmond, she went on to become a missionary and teacher. She has been inducted into the Military Intelligence Hall of Fame.
Jonathan Gibbs: An African-American political activist who aided the Underground Railroad, fought segregation in New York and supported black enlistment in the Union army.
Gilbert Hunt: A blacksmith who was enslaved in King William County in 1780. He was a member of the Richmond Volunteer Fire Brigade and assisted in rescuing people from a theater fire in December 1811 in which Gov. George William Smith and his wife were among the 72 who died.
Arthur Ashe Jr.: Tennis star and human rights activist who grew up in the North Side neighborhood and supported educational rights for children.
Barbara Johns: At 16 she led a strike at Moton High School in Prince Edward County for equal educational resources and facilities for African-American students. Her actions led to a lawsuit that became part of the historic Brown v. Board of Education decision by the U.S. Supreme Court in 1954.
George Washington: The nation's first president.
Barack Obama: The nation's first African-American president.
Henry L. Marsh III: A noted civil rights attorney who served as a state senator and the city's first African-American mayor.
Spottswood W. Robinson III: A noted Richmond civil rights attorney who later was named a federal judge in the District of Columbia.
Bill "Bojangles" Robinson: A noted entertainer and tap dancer from Richmond.
Madame C.J. Walker: A noted businesswoman and philanthropist who became one of the wealthiest African-American women in the nation through developing and marketing a line of hair care products.
The next hearing will be 10 a.m. to noon Saturday, May 19, at J.E.B. Stuart Elementary School, 3101 Fendall Ave.
People also may post comments about changing the schools name on a survey at www.rvaschools.net.