'There's no success without failure,' actor and alum Boris Kodjoe tells VCU grads
5/19/2018, 3:14 p.m.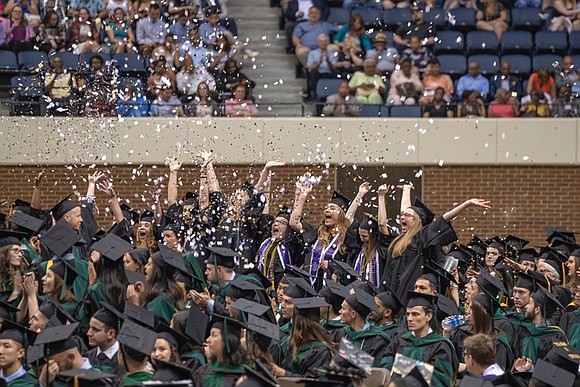 By Leah Hobbs
Actor Boris Kodjoe inspired Virginia Commonwealth University graduates to find the courage to see failure as a friend, instead of something to be feared along the road to success.
There's no success without failure because there's no triumph without adversity, no diploma without a lesson learned," the VCU alumnus said during his address Saturday at the commencement ceremony at the Richmond Coliseum. "Have faith that when you fall and get up again, you will win."
Mr. Kodjoe, whose hopes to play tennis on the professional circuit were dashed when he was diagnosed with a rare spinal deficiency, attended VCU on a tennis scholarship.
"I thought I was a failure and that I had disappointed every single person who believed in me," he said. "The truth is, more than being frustrated, I was afraid of the future. My plan had been destroyed and I was scared to make a new one."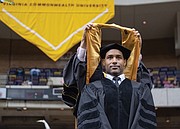 He talked about growing up in Germany. His mother, a German psychologist, and his father, a Ghanaian physician, divorced when he was 5. Raised by a single mother who took classes every day and worked night shifts, he was teased by other kids because he was different, he said. He subconsciously chose tennis as a way to externalize the post-traumatic stress of his parents' divorce, he told the audience.
"The hitting of the tennis balls helped me release some of that frustration that I had built up inside and gave me a feeling of normalcy and security that I was yearning for," he said. "The rhythmic sounds of the ball hitting cement drowned out some of the chatter that was circulating in my head."
Tennis gave him confidence.
"Back then, the confidence I felt was a very basic level of comfort that gave me the ability to just barely consider the possibility that a tall, skinny Afro-German boy — who could hit a tennis ball better than most grown men, but who was told daily by other children at school or on the playground that he looked weird, had ugly hair and must never be touched because your black skin is contagious — that a boy like me would find his place in the world without feeling the need to apologize for it."
After graduating from VCU with a degree in marketing, Mr. Kodjoe was discovered by a modeling agency in New York and started getting paid for the same reason that he was bullied years earlier — his looks.
In 2000, Mr. Kodjoe landed a role on the television series, "Soul Food: The Series," where he met his wife, actress Nicole Ari Parker. He currently stars in the CBS drama, "Code Black," as Dr. Will Campbell and co-stars on BET's "Real Husbands of Hollywood."
In 2008, he and his wife launched Sophie's Voice Foundation to raise awareness about and research funding into spina bifida, a congenital birth defect involving the incomplete development of a baby's spinal cord that can affect a child's ability to walk and other functions. Their daughter, Sophie, was born with spina bifida. The Atlanta-based foundation supports global health and wellness initiatives in multicultural communities.
Mr. Kodjoe told the graduates that the choice he made to come to VCU produced a chain of events that shaped his life. He said that choice was a turning point, a moment that seemed ordinary at the time, but gained in significance because of one, single choice.
"The element of a turning point in my life came because I faced my fear of failure and stepped out on faith," he said.

Mr. Kodjoe was presented with an honorary degree during the ceremony. It is the university's highest form of recognition, which recognizes individuals who have made outstanding contributions to society through scholarship, public service, humanitarianism, science and the arts.
Last year, he was inducted into the VCU Athletics Hall of Fame.
VCU President Michael Rao commended the more than 5,000 students who received undergraduate, graduate and professional degrees on their impact at the university. He described how students came to his office a few years ago and asked for a more diverse faculty that looks more like VCU's students.
"By coming to VCU, you have shaped this university and you have, in a large way, made it what it is today," Dr. Rao said. "You collaborated with people from backgrounds different from your own so that you could discover better ways to do old things. You've been challenged within and outside of the classroom. And many of you have challenged us, and we have changed … You have helped to raise our standards. You have helped VCU to become a stronger university that continues to evolve every day," he said.
Terry Everett, a junior majoring in biology and a participant in the Louis Stokes Alliance for Minority Participation and Ram Camp leadership programs, was presented with the VCU Board of Visitors Award. The award recognizes an undergraduate student for outstanding academic achievement, leadership and service. Mr. Everett and his family started B the Movement, a company that does motivational speaking at events in impoverished and underrepresented communities.
Also at the ceremony, Charles F. and M. Virginia "Ginny" Crone were awarded the Edward A. Wayne Medal, which honors individuals who have made outstanding contributions or provided exemplary services to the VCU. Mr. Crone is retired president of MC Wholesale Club and former vice president of the Williamsburg Pottery, while Mrs. Crone is retired from BASF Corp. Their 30 years of philanthropy at VCU has benefited the Massey Cancer Center, the MCV Foundation, the VCU College of Health Professions and the schools of medicine and nursing.