Maynor, Kodjoe among 6 inductees into VCU Athletic Hall of Fame
Fred Jeter | 12/30/2016, 12:09 p.m.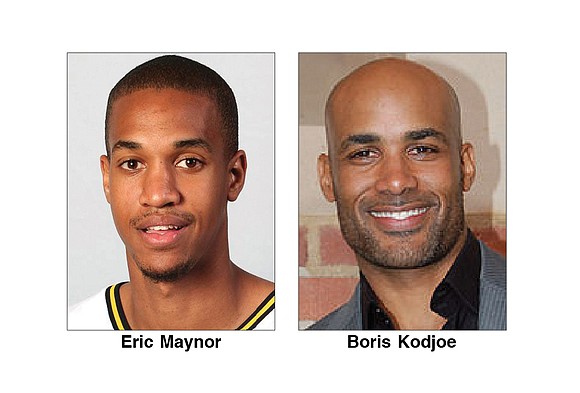 Eric Maynor starred in basketball at Virginia Commonwealth University and later smoothly transitioned to the sport's professional ranks.
Boris Kodjoe was a tennis standout at VCU and then, switching gears on his career path, became a successful actor starring in movie and television roles.
Maynor, a member of the Class of 2009, and Kodjoe of the Class of 1996 are among six former student-athletes who will be inducted into the VCU Athletic Hall of Fame on Feb. 11.
Others slated to be honored are Matt Delicate (Class of 2004) and Jen Parsons (Class of 2006) for soccer, Kristine Austgulen (Class of 2003) for women's basketball and Martina Nedelkova (Class of 2002) for tennis.
Maynor, who is from Fayetteville, N.C., is the Rams' all-time scorer (1,913 points) and assists leader (674) since the 1968 merger of Richmond Professional Institute and the Medical College of Virginia to create VCU.
Len Creech, also a member of the VCU Hall of Fame, totaled 2,019 points in playing three seasons with the RPI Rams and one for the VCU Rams.
Maynor was named Colonial Athletic Association Player of the Year in 2008 and 2009, and was a first round draft choice for the NBA's Utah Jazz in 2009. He played in the NBA until 2014, covering 267 games. He now plays in Italy's top pro league.
Austria-born Kodjoe posted 75 singles victories in VCU tennis and was part of 66 doubles wins for the Rams during the mid-1990s. He also was the first Ram to win the Intercollegiate Tennis Association regional title.
Since leaving VCU, Kodjoe has starred in such films as "Love & Basketball," "Brown Sugar," "Madea's Family Reunion" and "Addicted." His long list of television credits most recently includes "Code Black" on CBS and BET's "Real Husbands of Hollywood."
In 2002, People magazine named him to the list of "50 Most Beautiful People in the World."
Kodjoe's younger brother, Patrick, played basketball for VCU from 1998 to 2000.